Tsing Hua University Information
Tsing Hua University was founded in the year 1911 as the Tsing Hua Academy of Peking. In the year 1928, the academy was renamed as National Tsing Hua University and in the year 1956, was re-christened as Hsinchu of Taiwan. The university was reinstalled with both graduate and undergraduate programs. Following the split of Taiwan from China the university was also split into two different educational establishments in the representative countries. This section is dedicated to the one located in Beijing.
The Tsing Hua University ranking is number 12 in Asia in the University Review List. Similarly ranked colleges include University of Tsukuba, National Taiwan University, Kyushu University, and Chinese University of Hong Kong.
Other good Chinese education establishments includeUniversity of Science and Technology of China, Peking University, Fudan University, Shanghai Jiao Tong University, Jilin University, Zhejiang University and Nanjing University.
Today, the Tsing Hua University has developed into 7 colleges, 17 departments and 18 independent institutes comprising of colleges in nuclear science, engineering, humanities and social sciences, science, life science, computer science, and electrical engineering. There is also a college of technology management offered here.
A Commission for General Education supervises the curricula for the Tsing Hua University. The faculty comprises of over 500 full time professors for more than 9,000 students from the undergraduate, master's and doctors degree courses. The student lecturer ratio is around 17:1.
Admissions at Tsing Hua University
Admission to bachelor's degrees is open to all. There are various entrance examinations that have to be answered to seek admission in Tsing Hua University. There are around twenty eight programs offering master's degree in Tsing Hua University where admission is granted to bachelor degree holders or its equivalent on passing an entrance examination. There is also an entrance examination for master degree holders for a seat in one of the 24 doctoral programs Tsing Hua University offers.
Tsing Hua University offers accommodation to more than 5,000 students, and has twenty student dormitory buildings on its campus. Both faculty and students stay in the campus to make life more interesting and cordial. Not only does TsingHua pay emphasis on studies, but also it emphasis on extra curricular activities at its 120 student clubs. The university also aims at moral education and the development of an individual character.
Physical education plays a great role in the life of a Tsing Hua University student with its impeccable features like the gymnasium, baseball field, indoor swimming pool, track and field arena and field courts for different sports. Many sports events in swimming, cross country, and intramural games are organized here annually. Counseling services are available to students who need it. And to help student pursue their studies, Tsing Hua University offers scholarships and fellowships to outstanding students and student loans to students with financial difficulties.
Tsing Hua University Address, Map, and GPS
The university is located at the following address:
Tsing hua University
Beijing,
100084, P. R. CHINA
HOW TO DRIVE THERE: GPS COORDINATES
Decimal Degrees
39.991856 116.313087
Degrees, Minutes & Seconds
Latitude Longitude
N39 59 30 E116 18 47
GPS
N 39 59.511 E 116 18.785
Tsing Hua University Logo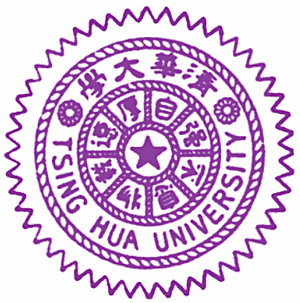 Ranking and Quick Facts
Motto: Self-discipline and Social Commitment.
The Tsing Hua University is ranked as the 71st best in the world by the THE and the 108th by University Review.
References