University of Waterloo Information
The University of Waterloo, which is located in the Canadian Provence of Ontario, can trace its roots back to 1955 when it was an entity within the Waterloo college. The University of Waterloo ranking is 7th best in Canada, and 169th in the world. Similarly rated Canadian colleges include Queen's University, University of Calgary, University of Montreal, and University of Alberta.
The university has grown rapidly in size and now attracts close to 28,000 full and part time students. The running of the university is currently overseen by president David Johnston.
The university of Waterloo ranking is well known for its maths and computer courses which are considered to be some of the best throughout all of Northern America. Some of the main faculties at Waterloo include those of Applied Health Sciences, Arts, Engineering, Environmental Studies, Mathematics and Science.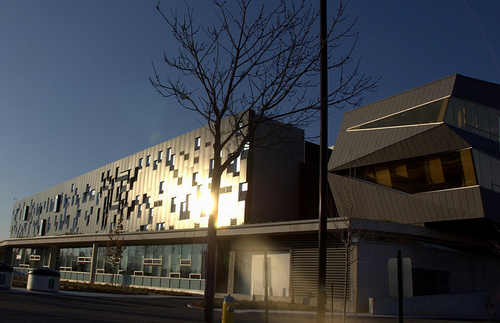 University of Waterloo Address
University of Waterloo
200 University Avenue, West Waterloo
Ontario
Canada
University of Waterloo Logo
University of Waterloo Rankings and Quick Facts
Motto: Concordia cum veritate (English: In harmony with truth).
University of Waterloo ranking

University world Ranking – Times 200 (UK)

= 112

University world Ranking – Jiaotong 500 (China)

151 to 202

University world Ranking – Newsweek 100 (USA)

84

America's Rank (Jiaotong)

77 to 98

University of Waterloo Facts

Students (Undergraduates / PG/ Total)

24,342

3,636

27,978

Faculty / Staff

2,250

Established

1957

Endowment

$172,000,000

Endowment per student

$6,147

Affiliations

CUSID, IAU
References
University of Waterloo; Photograph by mariachily.