University of Victoria Information
The University of Victoria is located in British Columbia in Canada. The University of Victoria ranking is as 10th best college in Canada, and 191st in the world. Similarly rated Canadian colleges include University of Calgary, University of Western Ontario, University of Ottawa, and Queen's University. It is considered to be the twelfth best university in Canada by the Times, but is ranked higher than this (third) in Maclean's Canadian ranks; it should be noted that many Canadian universities no longer cooperate with the Maclean university rankings due to discrepancies in their ranking methods.
Although established in it's current form as recently as 1963 Victoria can trace it's roots back to the beginning of the twentieth century when it was known as Victoria College. Nowadays the university, which is mainly located on a campus in Gordon Head, is overseen by the president David Turpin, attracts close to 20,000 students and occupies over 400 acres of land.
The University of Victoria has twelve major faculties. These offer courses in the following key areas: Business; Continuing Studies; Education; Engineering; Fine Arts; Graduate Studies; Human and Social Development; Humanities; Law; Medical Sciences; Science; Social Science.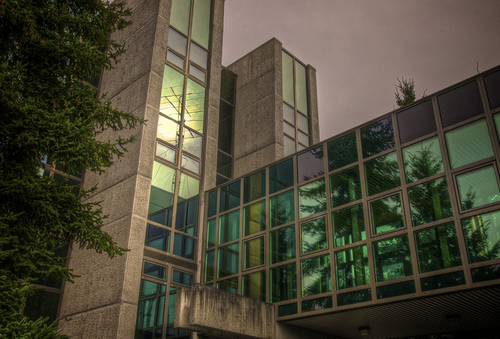 Many famous faculty and scholars have passed through the gates of the University of Victoria over the years, some well known attendees include the physicists Werner Israel and Don Vanden Berg; poets Aislinn Hunter and Patrick Lane; and Yahoo's Jeff Mallett.
University of Victoria Address
The University of Victoria address is located at:
3800 Finnerty Rd.
Victoria,
British Columbia.
V8P 5C2
Canada
University of Victoria Logo

University of Victoria Rankings and Quick Facts
Motto: Let there be light
University of Victoria ranking

University world Ranking – Times 400 (UK)

213

University world Ranking – Jiaotong 500 (China)

203 to 304

American Rank (Jiaotong)

99 to 138

University of Victoria Facts

Students (Undergraduates / PG/ Total)

16,961

2,514

19,475

Faculty / Staff

790 / 4120

Established

1963

Endowment

$140,700,000

Endowment per student

$7225

Affiliations

AUCC, IAU, CUSID
References
University of Victoria; Photograph by Alejandro Erickson.