The University of Texas at Austin ranking is 27th in the USA and 29th in the world on the University Review College Ranking List. It is ranked as the 53rd best college in the states by the USnews, and the 76th best by Forbes. The THE ranks it as the 28th best university in the world.
Requirements for Admission and Tuition Fees (Quick Facts 2014 / 2015)
The University of Texas at Austin tuition fees are $9,798 for in-state and $34,722 for out of state students. It is a selective college accepting 40.2% of applicants. Financial aid offered totals $149 million per year, an average of $12,430 per student.
University of Texas at Austin SAT Scores and ACT Scores
SAT scores for admission requirements (25th-75th percentile) are Math 580 – 710, Reading 540 – 670, and writing 540 – 680. The total composite SAT Score range for accepted applicants is 1140 to 1380.
The requirements for ACT (25th-75th percentile) are Composite 25 – 31, English 24 – 32, Math 26 – 32, and Writing 7 – 9.
About the University of Texas at Austin
The University of Texas at Austin is located in the southern part of the United States of America. It was founded in 1883 as a flagship state University having been proposed by the Texas Constitution of 1866. It is situated in a campus of around 350 acres in the city of Austin.
There are around 37000 undergraduate students and approximately 13000 postgraduate scholars, in addition to over 2700 staff and faculty. The university of Texas at Austin has an endowment of some $US4.3 billion US dollars. The president is William C. Powers, Junior. The schools mascot is the Texas longhorn, and the schools colours are 'burnt' orange and white. It is a member of the Big 12 athletics association and a member of the public ivies.
There are seventeen libraries at the University of Texas Austin, TX; in all they hold around eight million volumes of work. In addition to the libraries there are also five museums on the Austin campus.
As a Public Ivy institution, the education offered is similar to found at places like University of Wisconsin, Madison, University of Washington (Seattle), University of Illinois at Urbana-Champaign, University of Maryland, and Pennsylvania State University.
University of Texas at Austin Address
1 University Station, Austin, TX 78712-1023 USA
1900 University Ave, Austin, TX 78712
Other colleges in Texas state include University of Houston, Texas A&M University, University of Texas at Dallas, Southern Methodist University, Texas Tech University, and Rice University.
University of Texas at Austin Logo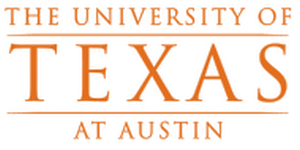 University of Texas Rankings and Quick Facts
Motto: Disciplina praesidium civitatis – English: Education, the guardian of society.
University of Texas at Austin Ranking
Ranking – Times 400 (UK)

51

University world Ranking – Jiao tong 500 (China)

38

University world Ranking – Newsweek 100 (USA)

27

PBA Top 100 Colleges

27

USnews American ranking

47

American Rank (Jiaotong)

26

Austin Texas University of Texas Facts

Students (Undergraduates / PG/ Total)

37,405

11,350

48,700

University Location
Austin, TX, USA
Faculty / Staff

2,500 / 14,000

Established

1883

Endowment (Texas system) – USA Rank
$13,234,848,000 – 4th
Endowment per student

$271,762

Research Spending – USA Rank
$410,981,000 – 32nd
Number of foreign students

5,395

Affiliations

AAU, Big 12
Other US Colleges by State
References