The University of Maine ranking is in the 508 to 568 range on the University Review College Ranking List. It is ranked as the 173rd best college in the nation by the USnews, and as the 445th by Forbes. US colleges with a similar rank include the University of Nevada at Reno, Montana State University at Bozeman, University of Idaho, and University of Mississippi.
Requirements for Admission and Tuition Fees (Quick Facts 2014 / 2015)
The University of Maine tuition fees are $10,604 for in-state and $28,484 for out of state students. It is a moderately selective college taking in 83.4% of applicants. Financial aid offered totals $43 million per year, an average of $15,180 per student.
University of Maine SAT Scores and ACT Scores
SAT scores for admission requirements (25th-75th percentile) are Math 480 – 600, Reading 480 – 590, and writing 470 – 580. The composite SAT scores range from 970 to 1200.
The requirements for ACT (25th-75th percentile) are 21 – 26 at Composite.
University of Maine Information
The University of Maine (UMaine) is located in Orono, Maine, USA is a public research university.
It was founded in 1865 as a land grant college and it is the Flagship University of the University of Maine, Orono, ME System. UMaine is the largest university in the state, having an enrolment of nearly 12,000 students.
It is the only university in Maine classified by the Carnegie Classification of Institutions of Higher Education as a research university (RU/H). The athletic teams of the University of Maine are called the Black Bears; they wear white and blue.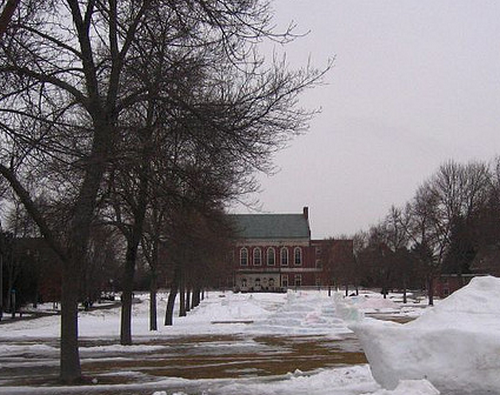 The University of Maine is located along the banks of the Stillwater River in the town of Orono. It offers a sturdy traditional form of education at prices that are affordable to the students. The university helps students achieve their dreams and create successful stories due to their wide variety of career orientated programs. It is one of New England's premier universities and it is composed of world class faculty members that are internationally known and recognized for their research and positive outlook towards their students.
In 1862 the University of Maine was founded as a function of the Morrill Act which was signed by President Lincoln. Its original name was the Maine College of Agriculture and the Mechanic Arts which was established in 1865. The Maine College opened its doors to students on September 21, 1868 and changed its name in 1897 to the University of Maine. The university's senior administration consists of President Robert A. Kennedy, Provost Sue Hunter, Vice-President for Research Michael Eckhardt, Vice-President for Administration Janet Waldron and Dean of Students Robert Dana.
The University of Maine is accommodating of many different fraternities and sororities, and Greek life has existed on campus it since 1874. Today, the presence of Greek clubs exists strongly with more than 700 students enrolled into Greek life at the university.
The University of Maine offers 88 undergraduate major programs which are organized in five colleges: the College of Education and Human Development; the College of Engineering; the College of Business, Public Policy and Health; the College of Natural Sciences, Forestry and Agriculture; and the College of Liberal Arts and Sciences.
It also offers wide choices of graduate programs such as 25 doctorate programs and 64 masters' degree programs.
University of Maine Address
The University of Maine address is located at:
168 College Ave
Orono
Maine 04469
USA
Other US colleges by State
University of Maine Logo

University of Maine Orono Rankings and Quick Facts
University of Maine Ranking
University world Ranking – Jiaotong 500 (China)

403 to 510

American Rank (Jiaotong)

165 to 197

University of Maine Orono Facts

Students (Undergraduates / PG/ Total)

8,760

3,105

11,870

Faculty / Staff

720

Established

1865

Endowment
$123,000,000
Endowment per student

$10,360

Affiliations

AEC
References
University of Maine; List of Maine Colleges; Photograph by manray3.