The University of Alabama Ranking is as joint 88th best college in the USA by the USnews, and the 335th best by Forbes.
Requirements for Admission, ACT & SAT Scores, and Tuition Fees (Quick Facts 2014 / 2015)
The total composite SAT Score range (middle 50%) for accepted applicants is 990 to 1260.
The previous requirements for ACT (25th-75th percentile) at Composite is 22 – 30.
The University of Alabama tuition fees are $9,826 for in-state and $24,950 for out of state students. It is a selective college accepting 56.5% of applicants.
An Overview of the University of Alabama at Tuscaloosa Facts (2014)
The University of Alabama at Tuscaloosa is a public, coeducational establishment located in a city setting in the city of Tuscaloosa, AL.
There are presently 34,752 enrolled at the University of Alabama. Of which, 29,440 (84.7%) partake in studies at the undergraduate level, whereas 5,312 (15.3%) partake in postgraduate classes. At the undergraduate level, 26,548 attend classes full-time and 2,892 attend as part timers.
Geographically, 54% come from in-state whilst 46% are from different parts of the USA. There are around 3% students from overseas students. 15,884 women attend University of Alabama at Tuscaloosa, and there are 13556 men studying at the undergrad level, for a ratio around 46:54.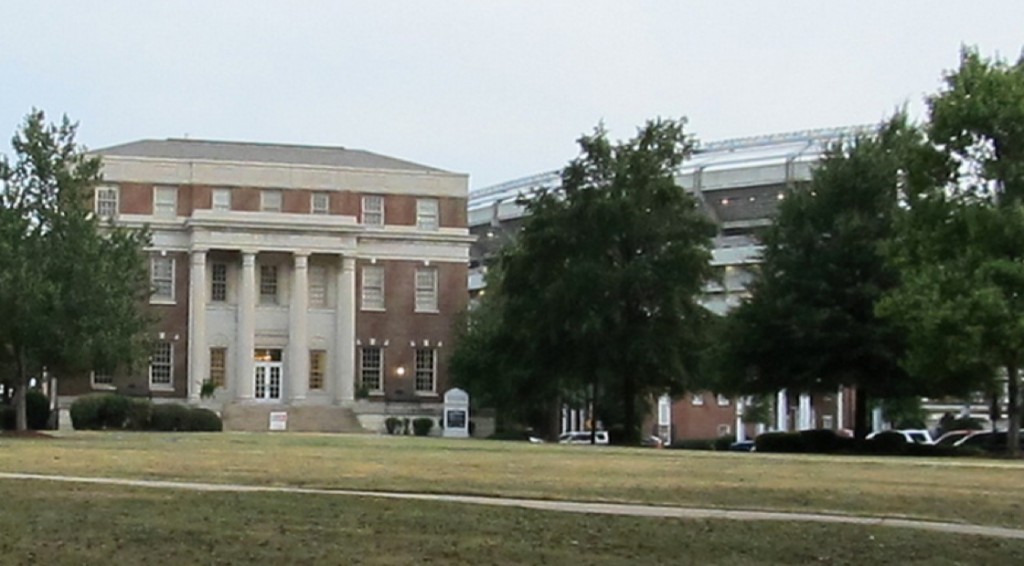 Regarding ethnicity, the undergraduate student population is broken down to 77% Caucasian, 1% of Asian descent, 11% black, and 3% with Hispanic or Latino backgrounds.
The college is currently rated as the 74th best in the US by the UR website college and university rankings, and is considered as the 86th best nationally by the U.S. News & World Report.
Costs of Tuition
The price of tuition for studying at this university is $9,450 for people from instate, and $23,950 for those coming from out of state. It is necessary to add a further $8,756 for room and board expenses, and $1,200 for study books. Bringing the total cost of study at this university to $19,406 for in-state students and $33,906 for out of state students.
University of Alabama (Tuscaloosa) offers needs based funding for scholarships of $63,496,677, and has non-needs based funds of $79,862,205 available, a total of $143,358,882 accessible in grant-aid to their attendees. The average financial aid given to each scholar is $9,982, and around 76% of all students are provided assistance with their financial needs.
Student Admission Processes
The University of Alabama is a selective school with an acceptance rate of 44%. In the previous year 22,136 applied to attend, of which 9,636 were accepted for admittance. Of those receiving admittance 5,766 (60%) matriculated to the university.
The fees for applying to the school are $40 for UGs and $50 for graduate level study.
Regarding those admitted, 41% placed in the highest 10% in their high school. 21% of successful candidates submitted SATS. The mid scores for reading were 500 – 599 (43% of students had a score in this range), 500 -599 (40%) for Mathematics, and 500 – 599 (42%) for writing. The mid fifty percent percentiles were 500 – 620 for reading, 490 – 620 for writing, and 500 -640 for Math.
77% of students gave ACTs: mid ranges are 24 – 29 (35%) Composite, 30 – 36 (34%) English, and 24 – 29 (41%) for Mathematics. The twenty-five to seventy-five percent percentiles were 22 – 29 for Composite, 20 – 27 for Math, 22 – 31 for English, and 6 – 8 for Writing.
The most essential factors for admission into the university are standardized test scores, and secondary school records. In addition, aspects including the rank within class are important for acceptance.
The address for applications to the University of Alabama at Tuscaloosa is 739 University Blvd Tuscaloosa, AL 35487-0166. The telephone number is (205) 348-6010, and their website can be found here.
Academic Study Programs
The establishment offers many courses, with the most prevalent being General business and Management, Marketing, and Nursing. Sizes of classes are: less than 20 (43%), 20 to 49 (39%), and 50 or more (18%).
Campus Details
There is one main campus located at the center of Tuscaloosa, AL. The campus site contains an area of about 1,970 acres.
The college's sports teams take part at the NCAA DIVISION I-A level of the Southeastern Conference. The teams are named the Crimson Tide. Men compete in in seven varsity sports, while women are involved in ten events, producing a total of seventeen varsity events all together.
Number of Faculty
The establishment currently employs approximately 1,660 full time faculty, and 1,217 part-time (total 2877). The student : teacher ratio is 21 : 1.
Graduation Rates, Time and Intent to Graduate
About 36% of undergrads complete school within 4 years, and 64% finish within 6 years. Last year, 6,234 scholars graduated; they obtained 4,576 Bachelor's, and 1,287 Master's and other postgrad qualifications.
Student Experience
The university caters for all kinds of students, whether form overseas or a local of Tuscaloosa you are sure to fit in and meet like-minded people. It offers a great compromise between studying at a high level yet still having fun and enjoying life.
The campus is considered attractive, and has a nice green campus with a riverside walk. The buildings in the Quad have beautiful architecture. It is a lot easier to walk around the campus than to drive within it, which may be a problem to some as the campus is very spread out. The local town of Tuscaloosa has mixed reviews. It seems to have most of the facilities required of a campus town, but lacks many of the features available in bigger cities such as Birmingham, Montgomery or Mobile. Most students say that it more than meets their needs and comment on the friendliness of the townsfolk. Tuscaloosa is considered to be a clean and safe city, and completely mad on the Crimson Tide sports teams.
Whether the education offered at Alabama is good value for money largely comes down to where you are from. If you are from the state then it good value with a quality education offered. However, fees are very high for those from other states, and a similar level of education may be offered in your own state for a much lower tuition fee.
As to be expected from a university that ranks in the top 75 in the country, studying at Alabama requires a lot of mental effort. You will have to get some serious study sessions done to pass your course. Of course, if this were not the case then it would not be worth attending the institution in the first place. And the effort that you put into your studies will be rewarded with a quality education. Fortunately the professors at the university of Alabama are more than up to the job and are considered to be more than open to discussions about course work. That said as a public university Alabama also offers some non-honors courses that will make studying a little easier.
The campus dorms are very good but expensive; all freshmen are required to spend their first year in campus dorms. You will have your own room. You will need to share the bathroom with one other person, and four people get to share a kitchen.
The campus is considered to be pretty safe with regular patrols by both the Tuscaloosa and the university's own police force. An emergency light/call system is in place for students in any need on the campus. Although cheaper dorms are available they are showing their age and do not make for a pleasant experience.
University of Alabama Address, Maps, & GPS
Campus Drive
Tuscaloosa,
AL 35487
USA
HOW TO DRIVE THERE: GPS COORDINATES
Decimal Degrees
33.215099 -87.546356
Degrees, Minutes & Seconds
Latitude Longitude
N33 12 54 W87 32 46
GPS
N 33 12.906 W 87 32.781
Other colleges in Alabama state include the University of South Alabama, Troy University, University of Alabama at Birmingham (UAB), and Auburn University.
Other US Colleges by State
Key Facts
Type: Public
Established: 1831
Endowment: $1,054,890,000 (Ranked – 77th)
President: Dr. Judy L. Bonner
Cost to attend: (instate) $19,406 ; Out of State $33,906
College Ranking: 74th in the USA, University Review / 86th Nationally, USNews
Number of Students: 34,752
University of Alabama Website: http://www.ua.edu
List of Alabama Colleges