Nihon University Information
Nihon University, also known as Nihon Daigaku or Nichidai, is Japan's largest university. It was established in October 1889 by the Minister of justice, Akiyoshi Yamada as Nihon Law School (currently known as the Department of Law). Another Minister of justice, Kentaro Kaneko served as its First Director. The Nihon University ranking is from 19th to 23rd in Japan, and 508 to 568 in the world. Similarly rated colleges in Japan include Niigata University, University of Tokushima, Yamaguchi University, and NAIST.
A majority of Nihon University's campuses can be found the region of Kantō, in the vicinity of Tokyo, although the College of Internal Relations and the College of Engineering are located in the Shizuoka and Fukushima Prefectures respectively, which are relatively far from Tokyo.
In 1901, the Higher Teachers' Department (or the College of Humanities and Sciences, as it's currently known) was created. The institution changed its name to Nihon University in 1903, and through the Specialized School Order, officially became a university a year later. In 1920, its College of Science and Technology (then known as the School of Higher Engineering) was established, and Nihon University opened its doors to female students.
In 1950, the university expanded its academic scope and established its own junior college, and a year later also founded a graduate school, which followed a new school system. To date, twelve presidents have served the university with the first being Yasukowa Matsuoka. The university's current president is Takeo Sakai.
The university has 15 departments/colleges and 19 graduate schools. Its undergraduate department includes the College of Humanities and Sciences, Law, Economics, Commerce, Art, Internal Relations, Science and Technology, Industrial Technology, Bio-resource Sciences, and Pharmacy as well as its School of Medicine, two schools of Dentistry and Correspondence Division.
The graduate school division includes Advanced Research Institute for the Sciences and Humanities, Law school, as well as Graduate Schools for Law, Liberal Arts, Science and Technology, Integrated Basic Sciences, Economics, Commerce, Art, International Relations, Industrial Technology, Engineering, Medicine, Bio-resource Science, Pharmacy, Business, Social and Cultural Studies and Dentistry.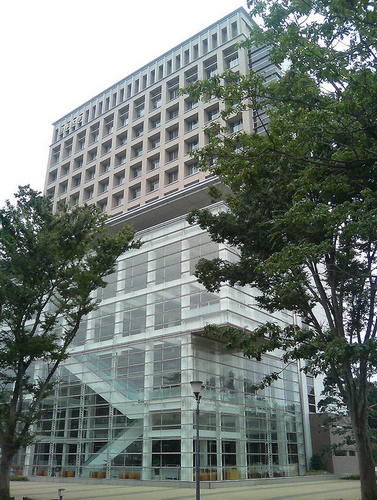 The University has produced several renowned alumni. Its college of art, in particular, has produced famous artists like the animator Yoshiyuki Tomino and writers Ian Buruma and Banana Yoshimoto.
Nihon University Address
The university's science campus is located in 8-14, Kanda-Surugadai 1-chome, Chiyoda-ku, Tokyo 101-8308.
Nihon University Logo

Nihon University Rankings and Quick Facts
Japanese: 日本大学 or 日大 Nichidai.
Nihon University ranking
University world Ranking – Times 200 (UK)

N/A

University world Ranking – Jiaotong 500 (China)

403 to 510

University world Ranking – Newsweek 100 (USA)

N/A

American Rank (Jiaotong)

65 to 100

Nihon University Facts

Students (Undergraduates / PG/ Total)

68,810

3,610

72,425

Faculty / Staff

4025 / 3,750

Established

1889

Number of foreign students

1,050
References
Nihon University; Photograph by vlayusuke.