Open University Information
The Open University UK, otherwise known as OU, is a distance learning institution, which the UK government accredits and funds. The Open University ranking is undesignated in the University Review best UK university list because its size and type makes it difficult to compare with more traditional institutions. That said it often scores very high in lists dedicated to teaching, making its ranking similar to that of York, Warwick, Manchester, the UEA and other well thought of educational institutions.
Although Open university courses UK are taught by correspondence, the university is highly thought of and offers excellent standards of education, it is accredited by the Middle States Commission on Higher Education in the USA and by the British Government; the business schools are accredited by AACSB, EQUIS and AMBA.
Though most of its students in the undergraduate level are located in the UK, the various courses they offer can be studied globally. Many postgraduate students also use Open university review facilities to aid in their research while they attend graduate courses in their respective campuses, and the institution has a particularly popular MBA program.
Based on student number, the Open University is considered as the UK's biggest academic institution; it's student body of close to 170,000, qualifying it as one of the largest universities worldwide.
It was ranked as the top university for England and Wales in terms of student satisfaction for the years 2005 and 2006. It ranked second in the 2007 national student satisfaction survey of the UK government.
It was established in 1969 under Harold Wilson's Labour government, and opened enrolment to students in January 1971. It was incorporated as an tax-exempt charity by the Royal charter in Wales and England, and as a registered Scotland charity.
The Open University UK is open to students who wish to attain higher education on a distance learning or part-time basis. These include disabled students, which the university considers as its priority group.
The university's first vice-chancellor was Walter Perry, who was appointed in January 1969, with Anastasios Christodoulou serving as the university Foundation Secretary. Even with the budget cuts proposed by Edward Heath's Conservative government in 1970, the university was able to accommodate its initial 25,000 enrollees a year later as it adopted a fundamental policy of open admissions. During that same year, the UK's total population for it's traditional universities was an estimated 130,000
The University's undergraduate departments include Faculties of Business Management, Arts and Humanities, Computing and ICT, Childhood and Youth, Engineering and Technology, Education, Health and Social Care, Environment, Development and International Studies, Law, Languages, Psychology, Mathematics and Statistics, Social Sciences and Science.
For its postgraduate programs, OU gives its students the opportunity to attain an EdD for educational professionals as well as a PhD for various disciplines. It also offers masters such as MBA, MPA, MA, MSc, MRes and MEd. Other postgraduate offerings include practice-based courses and computing qualifications for different professions.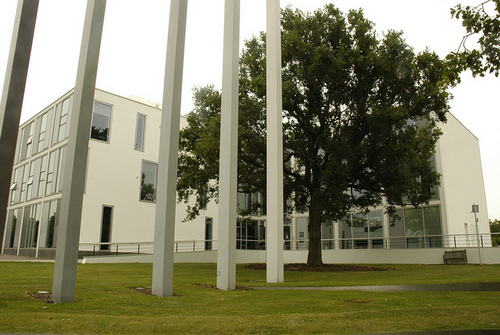 Open University Address
The headquarters of the University is located at:
Walton Hall
Milton Keynes
MK7 6AA
UK
Open University Logo
Open University Rankings and Quick Facts
Motto: Learn and Live
Open University ranking
University world Ranking – Jiaotong 500 (China)

305 to 402

European Rank (Jiaotong)

124 to 172

Open University Facts

Students (Undergraduates / PG/ Total)

151,400

17,450

168,850

Faculty / Staff

> 8,000

Established

1969

Number of foreign students (if known)

25,000

Affiliations
References
Open University; Photograph by Paul Stainthorp.