The Georgetown University ranking is 46th in the USA and 216th in the world on the University Review College Ranking List. It is ranked as the joint 21st best college by the USnews. It is ranked as the 28th best college in USA by Forbes.
Requirements for Admission and Tuition Fees (Quick Facts 2014 / 2015)
As a private institution the Georgetown University tuition fees are $46,744 for both in and out of state students. It is an extremely selective college taking in just 17.1% of applicants. Financial aid offered totals over $99 million per year, at an average of $39,300 per student.
Georgetown University SAT Scores and ACT Scores
SAT scores for admissions (25th-75th percentile) are Math 650 – 750, and Reading 640 – 750. The composite SAT scores range from 1310 to 1500.
The Georgetown University admission requirements for ACT (25th-75th percentile) are Composite 30 – 33, English 30 – 35, and Math 28 – 33.
Georgetown University Information
Aside from being one of the most significant and historical cities in the USA, Washington DC is also a place that is home to a number of prestigious educational institutions. One of these places is Georgetown University, located within the Georgetown area of DC.
The university has been around since 1789 with its history spans from the end of the revolution, through the civil war to the present day. It is a private, Roman Catholic institution with an endowment approaching $1 billion. Currently it is home to approximately 14,000 students and has a well known affiliation with the Association of Jesuit Colleges.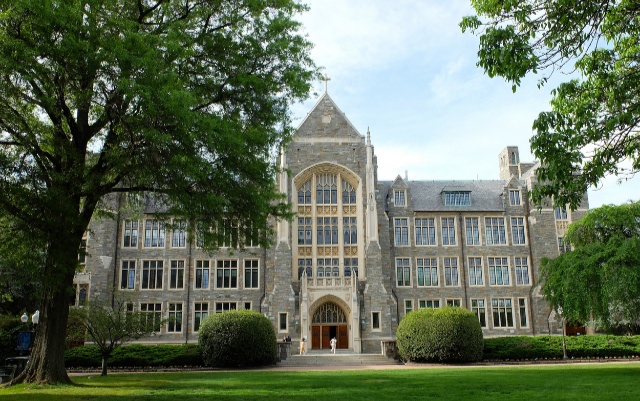 If you are reading this page and are interested in attending Georgetown University, Washington, DC, then you should be aware that religion plays a very big role in the way things are done at Georgetown University. If your religion is important to you and you want to get an education that is consistent with Roman Catholic Jesuit teachings, then Georgetown University is definitely worthy of consideration.
While religion is an important part of the student experience at Georgetown University, it is by no means the main part, that belongs to educational excellence, with Georgetown University having a great law center and a medical center. They are both accredited professional schools that offer a well-rounded education, and repeatedly turn out exemplary lawyers and doctors.
Financial assistance is very much a possibility at Georgetown University, this means that students are not denied entry into school for financial reasons if they have the right qualities. Financial aid in the form of scholarships, employment opportunities and work-study programs are readily available to students in need.
All of these things illustrate the fact that the all round student experience at Georgetown University is a positive one, making it a university worthy of consideration; especially if you consider religion to be a strong issue when choosing a place to study.
Other colleges in the state include Howard University and the George Washington University.
Georgetown University Address
The address of the university is located at:
37th and O Streets NW,
Washington
DC 20057
USA
Georgetown University Logo
Ranking and Quick Facts
Motto: Utraque Unum (English: Both into One).
The Georgetown University ranking is the 138th best in the world according to the THE. It has an enrollement of 7,636 undergrad students and 10,213 graduate students. It was established in 1789. The campus covers an area of 104 acres. 55% of undergraduate students are female.
Other US colleges by State
References