Eindhoven University of Technology Information
This technology university, which was the second of its kind in the Netherlands is located in the centre of Eindhoven.
Including staff there are close to 11,000 people who either study, teach or work at the institution. The Eindhoven University of Technology is considered to be one of the strongest research universities in both the Netherlands and Western Europe. It is currently overseen by president CJ van Duijn.
Similarly ranked Dutch universities include Maastricht University, and the University of Twente.
There are nine major departments at the Eindhoven University of Technology as follows:
Department of Applied Physics
Department of Architecture, Building and Planning
Department of Biomedical Engineering
Department of Chemical Engineering and Chemistry
Department of Electrical Engineering
Department of Industrial Design
Department of Mathematics and Computer Science
Department of Mechanical Engineering
Department of Technology Management
Over the years many distinguished people have passed through the gates of the University these include students such as the Scientist Kees Schouhamer Immink; Politician Camiel Eurlings and the Industrialist Gerard Kleisterlee.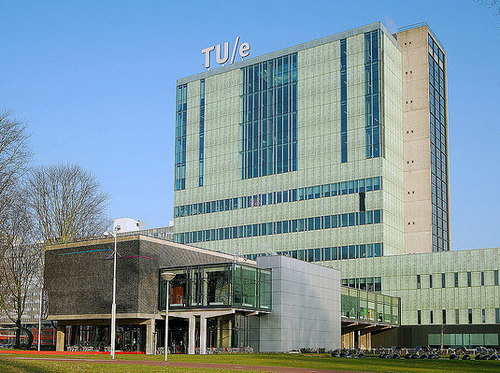 Eindhoven University of Technology Address
Eindhoven University of Technology
Den Dolech 2
5612 AZ Eindhoven
The Netherlands
Eindhoven University of Technology Logo

Eindhoven University of Technology Rankings and Quick Facts
Motto: Mens Agitat Molem (English: The mind moves matter)
Also known as Technische Universiteit Eindhoven or TU/E
Eindhoven University of Technology Ranking

University world Ranking – Times 200 (UK)

= 130

University world Ranking – Jiaotong 500 (China)

305 to 402

University world Ranking – Newsweek 100 (USA)

N/A

European Rank (Jiaotong)

124 to 172

Eindhoven University Technology Facts

Students (Undergraduates / PG/ Total)

7,100

Faculty / Staff

2,200

Established

1956
References
TU/E; Photograph by IK's World Trip.