The CASE Western Reserve University ranking is 37th in the USA and 80th in the world on the University Review College Ranking List. It is ranked as the 38th best college in the states by the USnews, and the 127th best by Forbes.
Requirements for Admission and Tuition Fees (Quick Facts 2014 / 2015)
As a private institution the CASE Western Reserve University tuition fees are $43,158 for both in and out of state students. It is a selective college accepting 41.9% of applicants. Financial aid offered totals $102.5 million per year, at an average of $34,243 per student.
CASE Western Reserve University SAT Scores and ACT Scores
SAT scores for CASE Western Reserve University admission requirements (25th-75th percentile) are Math 650 – 740, Reading 590 – 700, and writing 590 – 690. The total composite SAT Score range for accepted applicants is 1270 to 1480.
The requirements for ACT (25th-75th percentile) are Composite 29 – 33, English 28 – 33, Math 28 – 33, and Writing 8 – 9.
CASE Western Reserve University Information
The CASE Western Reserve University (CWRU) is situated in Ohio, United States. This is a university that offers the best of college experiences while offering all the opportunities of a research university. CASE Western Reserve University has great partnerships with neighboring universities in the fields of art, medicine, music, anthropology, social work and entrepreneurship.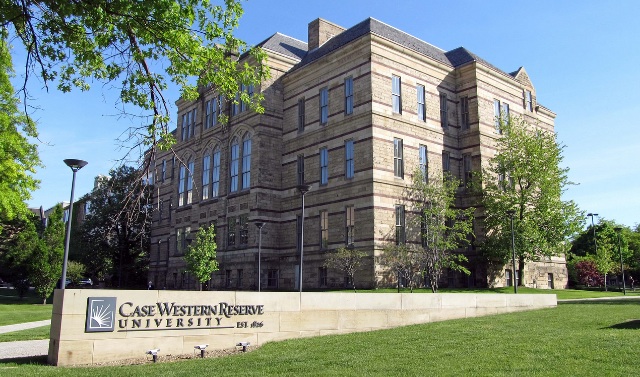 There are more than sixty majors offered in CASE Western Reserve University with numerous minors in four different undergraduate colleges in Arts and Sciences, Management, Engineering and Nursing. You will find all the necessary resources, programs and opportunities that are offered in a large university in CASE Western Reserve University. The student population is rather small, at 3,500 but has a great student to faculty ratio of 7:1, where great relationships can cultivate between professors and students.
CASE Western Reserve University, Cleveland, OH boasts of having the best faculty for its respective fields who are scholars and teachers. The different courses offered in CASE in their different colleges and schools include courses in arts and sciences, dental medicine, engineering, law, management, medicine, nursing, and applied social sciences. CASE also boasts of having one of the first university based programs that centers on providing education to people who work in the non profit and non governmental sectors.
There are newly renovated residential villages found at CASE Western Reserve University with a new athletic field to meet the sporting needs of students' where 19 varsity sports are supported. There are a great number of extracurricular activities and great cultural activities supported in CASE. There are also 24 fraternities and sororities to cater to the accommodation needs of students.
In addition to all this, there are numerous research centers and institutes found at CASE Western Reserve University, these cater to the educational and research needs of everyone. Some of the topics that are covered in these centers are American studies, artificial intelligence, Asian studies, center for adolescent health, center for inherited disorders, cardiovascular materials, environmental studies, international studies, and Japanese studies. The fee structure for the different courses for graduate and postgraduate studies is quite varied.
Case Western University Address
11111 Euclid Ave
Cleveland
OH 44106
USA
Other colleges in Ohio state include University of Dayton, Miami University Oxford, Kent State University, University of Cincinnati, and the Ohio State University.
CASE Western Reserve University Logo

Ranking and Quick Facts
Motto: Think beyond the possible.
The university is ranked as the 93rd best in the world by the THE.
Other US Colleges by State
References