Carleton University was formed at the start of the 1940's and is located in Canada's capital city, Ottawa. The Carleton University ranking is 17th best in Canada, and 311th in the world. Similarly rated Canadian colleges include York University, University of Guelph, University of Manitoba, and Laval University.
In the early days the institution started out as a small college that only gave lessons at night; it has now grown in size to cater for over 23,000 students and offers around 65 different programs of study.
The libraries of Carleton have around 3 million volumes. It is currently presided over by Doctors Marc Garneau and Samy Mahmoud.
There are four major faculties at Carleton, these are as follows:
Faculty of Arts and Social Sciences
Faculty of Engineering and Design
Faculty of Public Affairs
Faculty of Science
Although a relatively young university many distinguished people have passed through the gates of Carleton. These include two noble prize winners Lester Pearson and Peter Grünberg. Others of note include the actor Dan Aykroyd, architects Gregory Henriquez and David Azrieli, businesses Conrad Black and politicians Scott Reid, Judy Wasylycia-Leis and Barry Devolin.
Carleton University Address
Carleton University
1125 Colonel By Drive
Ottawa,
Ontario,
K1S 5B6 Canada
Carleton University Logo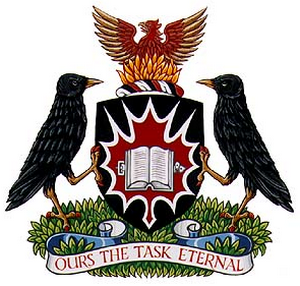 Carleton University Rankings and Quick Facts
Motto: Ours the Task Eternal
Carleton University rankings

University world Ranking – Times 400 (UK)

= 345

University world Ranking – Jiaotong 500 (China)

305 to 402

University world Ranking – Newsweek 100 (USA)

N/A

American Rank (Jiaotong)

139 to 164

Carleton University Facts

Students (Undergraduates / PG/ Total)

20,900

3,360

24,260

Faculty / Staff

3,570

Established

1942

Endowment (Can $)

$230,000,000

Endowment per student

$9,480

Carleton Location

Ottawa, Canada

Affiliations

ACU, AUCC, IAU
References
Carleton University; Photograph by smith.