The Brigham Young University ranking is in the 432 to 507 range on the University Review College Ranking List. It is ranked as the 62nd best college by the USnews.
Requirements for Admission and Tuition Fees (Quick Facts 2014 / 2015)
As a private institution the Brigham Young University tuition fees are $5,000 for both in and out of state students. It is a selective college taking in 48.6% of applicants. Financial aid offered totals $107.5 million per year, at an average of $7,080 per student.
Brigham Young University SAT Scores and ACT Scores
SAT scores for Brigham Young University admission requirements (25th-75th percentile) are Math 580 – 680, Reading 570 – 680, and writing 540 – 650.
The requirements for ACT (25th-75th percentile) are Composite 26 – 30, English 26 – 32, and Math 25 – 31.
Brigham Young University Information
Brigham Young University (often referred to as BYU) is a Mormon establishment and so will not be suited for all (only 1 in 50 students at the institution are non-Mormon). The university expects all students to follow the Mormon traditions, therefore the establishment is a dry campus. It is located in Provo on a campus of around 560 acres in size.
The university offers 194 degrees at undergraduate level and 93 at postgraduate level. The main schools and faculties cater for the following broad subject areas: Education, Engineering and Technology, Family, Home, and Social Sciences, Fine Arts and Communications, Health and Human Performance, Law, Life Sciences, Management, Nursing, and Physical and Mathematical Sciences.
Some of the alumni who have studied at Brigham Young University, Provo, UT include the Nobel prize winner Paul Boyer and the inventors Harvey Fletcher and Philo Farnsworth. Many notable authors have studied at Brigham including Brandon Sanderson and Orson Scott Card; Sports stars include American football players Steve Young and Jim McMahon; Basketball's Danny Ainge; and Baseball's Rick Aguilera, Jack Morris and Wally Joyner. The golfer Mike Weir also studied at BYU.
Brigham Young University Address
Brigham Young University
Provo,
Utah,
United States of America
Other colleges in the state include Utah State University and the University of Utah.
Brigham Young Logo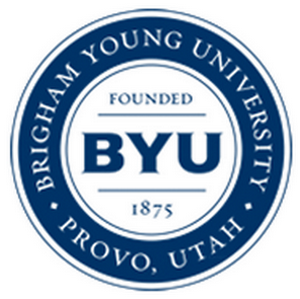 Brigham Young University Rankings and Quick Facts
Motto: The world is our campus
Brigham Young University ranking

University world Ranking – Times 200 (UK)

N/A

University world Ranking – Jiaotong 500 (China)

305 to 402

University world Ranking – Newsweek 100 (USA)

N/A

America Rank (Jiaotong) ranking of

139 to 164

Brigham Young University Facts

Students (Undergraduates / PG/ Total)

30,245

3,825

34,070

Faculty / Staff

2,150 / 2,100

Brigham Young University Location

Utah, USA

Established

1875

Endowment

$289,647,000

Endowment per student

$8,501

Number of foreign students

2,396

Affiliations

MWC
Other US Colleges by State
References
Brigham Young University; List of Utah Colleges; Photograph by benmckune.