About Ben Gurion University
The Ben-Gurion university of the Negev is located on three campuses in the Negev region in the south of Israel; the main campus is located at Beersheba (Be'er Sheva), the others are located at Eilat and Sde Boker. The establishment is currently overseen by the president Rivka Carmi.
Other well ranked colleges and universities in Israel include Hebrew University of Jerusalem, Tel Aviv University, Technion Israel Institute of Technology, Bar-Ilan University, Weizmann Institute of Science, and the University of Haifa.
There are six major faculties at Ben-Gurion:
Faculty of Management
Faculty of Desert Research
Faculty of Engineering Sciences
Faculty of Health Sciences
Faculty of Humanities and Social Sciences
Faculty of Natural Sciences
Although a relatively young university many distinguished faculty and scholars have passed through the gates of Ben-Gurion University. Some of the alumni and present staff include the authors Aharon Appelfeld, Etgar Keret; the poet Agi Mishol; philosophers Richard Shusterman and the journalist Shelly Yachimovich.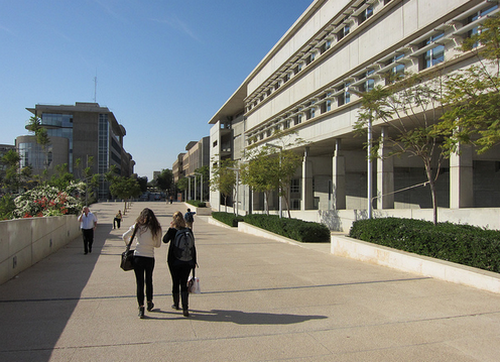 Ben Gurion University Address
Ben Gurion University of the Negev
Beer-sheva,
Negev
84105 Israel
Ben-Gurion University Logo
Ben-Gurion University Rankings and Quick Facts
Full name: Ben-Gurion University of the Negev or Universitat Ben Gurion Banegev.
Ben Gurion University rankings
University world Ranking – Times 400 (UK)

= 286

University world Ranking – Jiaotong 500 (China)

203 to 304

University world Ranking – Newsweek 100 (USA)

N/A

Asian Rank (Jiaotong)

25 to 42

Ben Gurion University Facts

Students (Undergraduates / PG/ Total)

17,500

Ben Gurion Location
Beersheba, Eilat, and Sde Boker, Israel
Established

1969
References
Ben Gurion University; Photograph by IsraelMFA.