The Boston University Ranking is joint 40th top USA college and 58th in the world on the University Review College Ranking List. It is ranked as the 42nd best college in the states by the USnews, and the 89th best by Forbes.
Article Last update: 2nd March 2023
Requirements for Admission and Tuition Fees (Quick Facts 2022 / 2023)
As a private institution the Boston University tuition fees are $61,050 for both in and out of state students. Expect to spend about $79,760 in total (when room and board, and other fees are added). It is a very selective college accepting 19% of applicants. Financial aid is offered based on a needs base, at an average of $54,294 per student.
Boston University SAT Scores and ACT Scores
SAT scores for the Boston University admission requirements (25th-75th percentile) are Math 600 – 700, Reading 580 – 670, and writing 590 – 680. The total composite SAT range for accepted applicants is 1180 to 1390.
The requirements for ACT (25th-75th percentile) are Composite 26 – 30, English 26 – 31, Math 25 – 30, and Writing 8 – 9.
Boston University Information
There are numerous universities located within the United States of America, both public and private in nature; Boston University (BU) is an example of an excellent private research university.
Ever since its founding in 1839 it has been at the forefront of a number of different research fields. It is currently home to about 27,000 students that are actively studying on the university grounds (~18,000 at undergraduate level), and many top quality courses are taught there.
There are a number of different colleges that split up the educational material at Boston University, MA; five of them to be exact. Within these colleges there are specialty schools. For example, if you were a student within the College of Arts and Sciences, you might also be a member of the School of Medicine or the Goldman School of Dental Medicine. There is a very clear hierarchy when it comes to classes at Boston University and this serves to enforce the professionalism of the school and is in fact something that many students have commented very positively on.
As far as degree programs go, there are a number that are offered by the Boston University in dozens of different fields. The alphabetical list starts with African American Studies and ends with Urban Studies and Public Policy. Within those two endpoints of the list, there are a number of different degree programs not only running the scope of subjects being offered, but also running the gamut of difficulty. For example programs, such as Astronomy, have degree programs at the undergraduate, graduate and postgraduate levels; something that allows students who come to love the university the opportunity to stick around throughout their educational life.
The campus on which Boston University is situated is a very beautiful place with a number of libraries and study areas with nice views. Many students have enjoyed studying there because of this, and if you read student comments made by alumni, this is something that pops up again and again.
Pros and cons of studying at Boston University
Some of the great things about going to Boston University:
Academic reputation: Boston University has a great reputation and is a highly respected institution throughout the world of Education. It is consistently ranked among the top 50 universities in the United States by the U.S. News & World Report, and is well placed in the University Review top 100 Colleges list.
Location: Being located in the heart of Boston, a city known for its history, culture, and innovation, it is no surprise that its location is a major selling point for this university. Boston offers a vibrant and diverse environment, and is rich in opportunities for both learning and personal growth.
Career opportunities: Boston University has a strong network of alumni and industry connections. Getting a degree from Boston is very likely to provide lots of potential career opportunities for graduates.
Research opportunities: Following graduation you will be well placed to go onto further studies at Boston University. And even when studying at the undergraduate level, you can rest assured that as it is a leading research institution, Boston will provide students with numerous opportunities to work with faculty members, often on groundbreaking research projects [https://www.bu.edu/research/].
Diversity: Boston University is proud of its approach to diversity and inclusion. Indeed, the student body comprises people from over 130 countries, with about 66% considered as a minority enrollment.
A few of the dis-advantages of studying at Boston
Cost: As Boston University is a private institution it has an associated high tuition cost, even for in-state students. Fortunately, Boston can help with its own hardship scholarships and also provide guidance on how to gain loans or seek out scholarships by external means so that you'll be able to afford the cost of attendance at Boston University.
Competitive admissions: Boston University is a highly selective institution, with an acceptance rate of around 19%. To most people this is more of an advantage than a disadvantage, because you'll know that your classmates are also likely to be of a similar intellect to yourself. That said, as  admissions can be competitive, it may make it difficult for some students to gain acceptance into their dream colleges. You are going to have to buckle down and get the work done to be accepted here.
Large class sizes: As a larger Boston University can be quite large, especially in the earlier years where many more general classes are studied. This can make it challenging for students to get personalized attention from instructors. That said, even if you cannot get much time with your professor, you should be able to get the support you need to pass your classes from class-mate working groups and your post-grads teaching assistants.
Campus size: Boston University is a large institution, in a big city, and has a sprawling campus. This can be overwhelming for some students, especially if they have grown up in a smaller town. It may also make it harder to mix with students from different fields of study. Though the university provide many ways, such as clubs and events, to help people better come together.
Weather: Boston can have harsh winters with cold temperatures and snowstorms. This can be a challenge for some students who are not used to the New England climate. The cold can go right through you. Be sure to budget for plenty of high-quality cold weather clothes.
These are just a few pros and cons to consider when thinking about studying at Boston University. It's important to do your research and visit the campus to get a better sense of whether it's the right fit for you.
Boston University Address
675 Commonwealth Ave
Boston
MA 02215
USA
Other colleges in Massachusetts state include the University of Massachusetts, University of Massachusetts Medical School, MIT, Brandeis University, Tufts, Harvard University, Boston College, and Northeastern.
Boston University Logo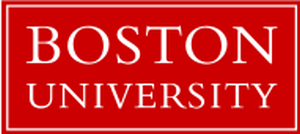 Ranking and Quick Facts
Motto: Learning, Virtue, Piety.
The university is ranked as the 54th best in the world by the THE.
Other US colleges by State
Further References