The Utah State University ranking is as the 194th best college in the USA by the USnews, and the 310st best by Forbes.
Requirements for Admission and Tuition Fees (Quick Facts 2014 / 2015)
The Utah State University tuition fees are $6,384 for in-state and $18,491 for out of state students. It is not a selective college accepting 98.5% of applicants. Financial aid offered totals $55 million per year, an average of $8,800 per student.
Utah State University SAT Scores and ACT Scores
SAT scores for admission requirements (25th-75th percentile) are Math 480 – 610, and Reading 470 – 610. The total composite SAT Score range for accepted applicants is 970 to 1240.
The requirements for ACT (25th-75th percentile) are Composite 20 – 27, English 20 – 28, Math 19 – 26.
Utah State University Information
Utah State University, Logan, UT is a public space-grant and land-grant institution reputed for its lead in academic and technical disciplines specifically in water, land, space and in life enhancement.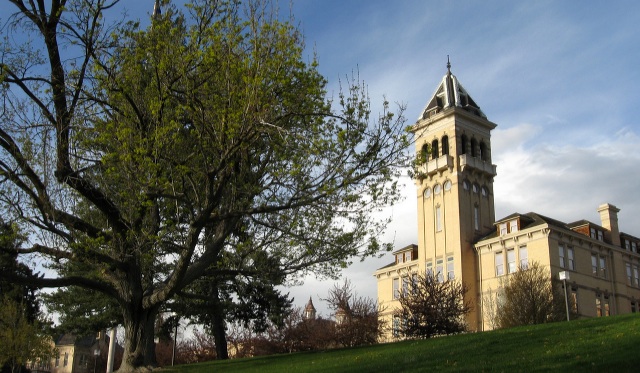 It was categorized as one of the "Best Western" schools in 2009 by The Princeton Review and is ranked in the third tier among four of National Universities by USNews and World Report. Currently steered by its President, Stan L. Albrecht, the University sprawls through 7,000 acres of land, its campuses occupying 400 acres space, and with over 200 structures, of which 63 among them were intended for scholastic activities.
The Utah State University was founded in 1888, in effect of a bill authored by Anthon H. Lund. Raised in the partially-finished south annex of Old Main, it was known as the Agricultural College of Utah. In 1890, the university was opened, and with it was the operation of the Utah Agricultural Experiment Station, the college research facility. It began an intensive campaign on research, this being infused into the university's schools and 42 academic sections.
In 1963, the Utah Water Research Laboratory was set up. This intensified the university's efforts on research particularly on water resources. The laboratory's undertakings during this period placed the State of Utah in local and worldwide recognition.
In the post World War II era, under President Truman's Point IV Program, the university was chosen to assist in the development of Iran's agricultural reserves. This achievement became the take-off point of the university's extension programs which had its focus on international outreach.
The university's efforts on extension continued to advance as the Utah Cooperative Extension Service was founded in 1814. County extension sites and Centers for Continuing Education were activated to propagate the extension philosophy of the university.
One major milestone of the Utah State University was its contribution to the country's space program. Several of its graduate students had given notable assistance to the university's research objectives by actively involving themselves in research at the Space Dynamics Laboratory, a research installation affiliated with Center for Atmospheric and Space Sciences. These two research establishments had been working in alliance with the National Space and Aeronautics Administration since the early 1960s.
In 1916, the university granted its first advanced degree and in 1960, it conferred its first doctoral degrees.
Today, with the university's motto, "Research, Service, Training," it expands into 7 colleges, listed as, College of Agriculture, College of Engineering, College of Humanities, Arts and Social Sciences, College of Natural Resources, College of Science, Emma Eccles Jones College of Education and Human Services, and Jon M. Huntsman School of Business.
Utah State University Address
The Utah State University address is located at:
Old Main Hill
Logan,
Utah 84322
USA
Other colleges in the state include Brigham Young University and the University of Utah.
Utah State University Rankings and Quick Facts
Utah State University Ranking
University world Ranking – Jiaotong 500 (China)

305 to 402

America Rank (Jiaotong)

139 to 164

Utah State University Facts

Students (Undergraduates / PG/ Total)

13,180

3,850

25,065 (including part time)

Faculty / Staff

875 / 1,800

Established

1888

Endowment

$145,000,000

Endowment per student

$5,785

Number of foreign students

1,464

Affiliations

WAC
Other US Colleges by State
References