University of Szeged Information
Located in the beautiful Art Nouveau styled city of Szeged in the south of Hungary, the University of Szeged is ranked as the best university in Hungary, and as one of the best in the old soviet bloc countries.
The university can trace it's roots back to 1872, when it was located in Kolozsvár; the university then moved to Szeged in 1921, following a couple of years in Budapest following the great war.
The other Hungarian institution ranking in the University Review Word listings is the Eötvös Loránd University.
Today the Szeged university caters for around 30,000 students, who are able to study from a choice of 134 degrees taught at eleven different faculties:
Faculty of Agriculture (MFK)
Faculty of Health Sciences (EFK)
College of Food Engineering (SZÉF)
Faculty of Arts (BTK)
Faculty of Economics and Business Administration (GTK)
Faculty of Law and Public Administration (ÁJTK)
Faculty of Medicine (ÁOK)
Faculty of Music (ZFK)
Faculty of Pharmacy (GYTK)
Faculty of Sciences (TTK)
Teacher Training College (JGYTFK)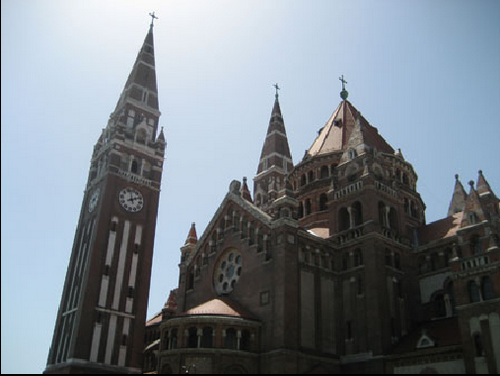 Over the years many famous scholars have passed through the gates of the University of Szeged, these include the Nobel prize winner Albert Szent-Györgyi (Medicine); the poets Miklós Radnóti and Attila József; mathematicians Alfréd Haar and Lipót Fejér; olympians Natasa Janics and Márton Joób; and the geographer Jenő Cholnoky.
University of Szeged Address
University of Szeged (Szegedi Tudományegyetem)
H-6720 Szeged,
Dugonics square 13.
Hungary
University of Szeged Logo
University of Szeged Rankings and Quick Facts
Motto: Veritas, Virtus, Libertas (English: Truth, Bravery, Freedom)
Also known as Szegedi Tudományegyetem.
University of Szeged ranking

University world Ranking – Times 200 (UK)

N/A

University world Ranking – Jiaotong 500 (China)

305 to 402

University world Ranking – Newsweek 100 (USA)

N/A

European Rank (Jiaotong)

124 to 172

University Szeged Facts

Students (Undergraduates / PG/ Total)

30,500

Faculty / Staff

6,600

Established

1872
References