University of Reading Information
Located in Berkshire in England the University of Reading can trace it's roots back to around 1860 when a school of Science and Arts were established in Reading; these later became Royal college reading and were an extension of the University of Oxford's Christ church college. Reading became a university in its own right in 1926 when it received a royal charter.
The University of Reading ranking is 25th in the University Review top universities in UK List. Similarly ranked colleges include University of Southampton, UEA, University of Nottingham, and University of Sussex.
Due to financial restraints the university of Reading has had to narrow its focus drastically in recent years, with many departments including those of Music, Physics, Sociology, Geology and Mechanical Engineering. Hopefully by not overstretching the university will be able to establish a higher quality of education in it's remaining subject areas.
Being a long established university has enabled the University of Reading to gain a respectable list of former alumni and faculty; academics include climatologist Sir Brian Hoskins and historian Sir Frank Stenton. The politicians Mike Penning, scientists Sir Peter Crane and E. A. Guggenheim, musicians Martin Noble, Jamie Cullum and Hilary James, as wells as the authors Kath Hale, Robert Gillmor and Joan Smith all received their education at the university of Reading.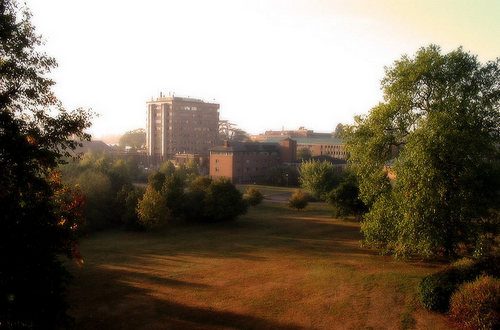 University of Reading Address
University of Reading
Whiteknights,
PO Box 217,
Reading.
RG6 6AH
England
University of Reading Logo

University of Reading Rankings and Quick Facts
University of Reading ranking

University world Ranking – Times 200 (UK)

= 180

University world Ranking – Jiaotong 500 (China)

203 to 304

University world Ranking – Newsweek 100 (USA)

N/A

UK (Sunday Times) Ranking

35

European Rank (Jiaotong)

81 to 123

University of Reading Facts

Students (Undergraduates / PG/ Total)

10,640

4,040

14,680

Faculty / Staff

4,024

Established

1892

Affiliations

The 1994 Group
References
University of Reading; Photograph by pawpaw67.