The University of New Hampshire Ranking is in the 432 to 507 range on the University Review College Ranking List. It is ranked as the 99th best college in the United States of America by the USnews, and as the 185th best by Forbes.  Similarly ranked US colleges in the world listings include the University of Alaska at Fairbanks, Thomas Jefferson University, San Diego State University, and the IUPUI.
Requirements for Admission and Tuition Fees (Quick Facts 2014 / 2015)
The University of New Hampshire tuition fees are $16,552 for in-state and $29,532 for out of state students. It is a moderately selective college taking in 77.8 of applicants. Financial aid offered totals $78 million per year, an average of $21,880 per student.
University of New Hampshire SAT Scores and ACT Scores
SAT scores for admission requirements (25th-75th percentile) are Math 510 – 610, and Reading 490 – 590.
The requirements for ACT (percentage of freshman admitted) are Composite 18 – 23 (45%), 24 – 29 (44%); English 18 – 29 (80%), and Math 18 – 29 (89%).
University of New Hampshire Information
The University of New Hampshire (UNH) is a public university located in Durham, New Hampshire, United States. It is part of the University System of New Hampshire (USNH), the system overseeing the major universities in the state of New Hampshire.
The sports teams are commonly known by their nickname, the "Wildcats,"
UNH was first incorporated in 1866 when it was in Hanover as a land grant college connected with Dartmouth College. At the time, it was called the New Hampshire College of Agriculture and the Mechanic Arts. Its present site in Durham was formerly a farm owned by Benjamin Thompson, a Durham resident who gave the state all his assets in order to establish an agricultural college. Then governor, Hiram Americus Tuttle, signed the bill authorizing the transfer to Durham on 10 April 1891. The college official moved to its new site in 1892. Official classes began in the Fall of the following year with 13 upper-classmen and 51 freshmen.
The University of New Hampshire, Durham, NH has six colleges and a Graduate School, which all in all offer about 2000 courses with more than 100 majors.
The colleges include the College of Liberal Arts (COLA), the College of Engineering and Physical Sciences (CEPS), the College of Health and Human Services (CHHS), the College of Life Sciences and Agriculture (COLSA), the University of New Hampshire at Manchester (UNHM), and the Whittemore School of Business and Economics (WSBE).
The University of New Hampshire Durham proximity to coastal environments makes it an excellent host for oceanography and marine biology programmes. Some of its facilities for such programmes include the Shoals Marine Laboratory which it operates with Cornell University and the Jackson Estuarine Laboratory located at Adam's Point.
The University of New Hampshire has three major university-wide research programmes for undergraduates: Undergraduate Research Fellowship (SURF), Research Opportunities Program (UROP), and International Research Opportunities Program (IROP). It provides students with opportunities to study abroad via approved programmes, exchange programmes, and managed programmes. 561 students or 4% of the total student population were in 38 different countries as of 2004.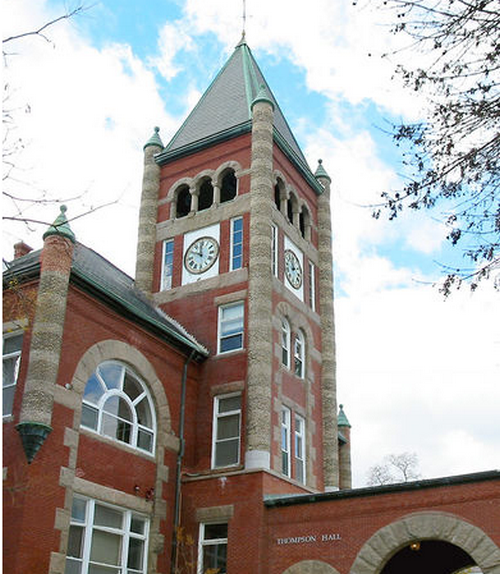 UNH has produced prominent figures in various fields like politics, sciences, business, sports, and so on. Some of its graduates include former New Hampshire governors, John Lynch, Steve Merrill, and Wesley Powell. Astronaut Richard Linnehan; former American Chemical Society and Merck president, Paul S. Anderson; and former Turkish prime minister Tansu Ciller are also graduates of the university.
University of New Hampshire Address
The University of New Hampshire address is located at:
Durham, New Hampshire 03824.
Other colleges in New Hampshire state include Dartmouth College.
University of New Hampshire Logo

The University of New Hampshire at Durham Rankings and Quick Facts
Motto: Science, Arts, Industry
University of New Hampshire ranking
Ranking – Times 200 (UK)

N/A

University world Ranking – Jiaotong 500 (China)

305 to 402

University world Ranking – Newsweek 100 (USA)

N/A

Europe Rank (Jiaotong)

139 to 164

University New Hampshire Durham Facts

Students (Undergraduates / PG/ Total)

11,850

2,360

14,200

Faculty / Staff

975

Established

1866

Endowment – USA Rank

$231,450,000

Endowment per student

$16,300

Research Spending – USA Rank
$108,378,000 – 120th
Affiliations

AEC
Other US colleges by State
References
University of New Hampshire; List of New Hampshire Colleges; Photograph by Andrew Sawyer.