University of Montreal Information
Montreal is a city with a lot of history, a lot of tradition and a lot of beauty. Amidst all of that are four world class universities, these include the prestigious University of Montreal (UdeM). The University of Montreal ranking is 6th best in Canada, and 104th in the world. Similarly rated Canadian colleges include McMaster University, University of Alberta, University of Waterloo, and University of Calgary.
The school was officially founded in the year 1878 and since then has been a force in the academic community in both Montreal and the rest of the Canadian country. It has an endowment of around $90 million and a student body of around 55,000 people.
The university itself is known for its research, particularly in the life sciences. There are a numerous people who do important research in fields of health science, biology, botany and zoology at the University of Montreal. As a consequence of the commitment to research there are many opportunities for students, even as low as the 2nd year of their undergraduate studies, to participate in research.
Because Montreal happens to be in the Francophone area of the country of Canada, many people that travel there for the first time have the preconception that they are going to have a difficult time fitting in because of the French language barrier. When you actually visit the city of Montreal, you will find that for most people this is not a problem at all. There are few problems with language barriers simply because of the multi-cultural nature of the city of Montreal and the University of Montreal too. All subjects have English classes, so you can learn French at your own pace. Learning French will spice up your life by allowing you to visit rural areas in Quebec and to fit in with the local community.
University of Montreal Address
1920 Rue University,
Montréal,
Quebec
H3A 1A1
Canada
University of Montreal Logo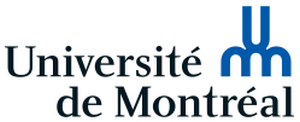 Ranking and Quick Facts
Motto: Fide splendet et scientia – It shines by faith and knowledge.
The university is ranked as the 104th best in the world by the THE.
References