SUNY Downstate Medical Center Information
Although often referred to as the SUNY downstate medical center the full name for this institution is the State University of New York Health Science Center. It is ranked at the joint 305th best university in the world on the Jiaotong 500 rankings.
It is the number one academic center for patient care, health education, and medical research in the area, serving millions of Brooklyn residents. It is both a public university and Medical Center in the Brooklyn area of NYC..
The university was first established in 1860 when a school for medicine was founded at Long Island College Hospital. During its establishment, the school offered its services to only male students (57 at that time). It first started to admit women students during the First World War. Post graduate training was also introduced during that time.
SUNY Downstate Medical Center offers the following four faculties:
College of Medicine: this is amongst the biggest med schools in NYC. It has the greatest proportion of students from ethnic backgrounds, the training of many physicians come from this school.
College of Nursing: offers post graduate training programs such as nurse practitioner, nurse midwifery, nurse anesthesia and clinical nurse specialist.
The College of Health Related Professions: offers health care training and programs which canlead to a career such as physical and occupational therapy, physician assistant, medical informatics, midwifery, and diagnostics medical imaging.
The School of Graduate Studies: has a very good name in the field of basic science education. Students are given the chance to work with some of the best neuroscience and medical researchers in America. The School of Graduate Studies is also accredited by the Middle States Association of Colleges and Secondary Schools.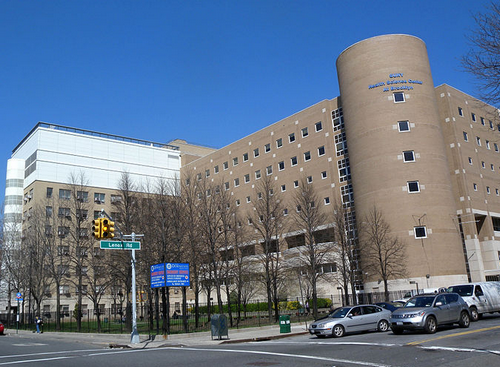 As a famous medical center SUNY Downstate has produced many notable alumni. One of which is Dr. Robert Furchgott, a Nobel prize winner in Medicine. He founded the principle that the nitric oxide molecule could be an important element in vascular health; this revolutionised the care for heart, stroke, impotence and other diseases. Another notable alumnus is Dr. Raymond Damadian, who was awarded the National Medal of Technology in 1988 for his development of an MRI machine capable of producing whole body images. Dr. Clarence Dennis is another notable alumnus for his invention of heart-lung machine which is now part of the Smithsonian collection.
SUNY Downstate Address
The SUNY Downstate Medical Center is located at 450 Clarkson Avenue Brooklyn, New York 11203.
Other colleges in New York State include City University New York City College, Yeshiva University, Syracuse, SUNY Buffalo, SUNY Albany, Rensselaer Polytechnic Institute, Mount Sinai School of Medicine, Stony Brook University, Rockefeller University, New York University, University of Rochester, Cornell University, and Columbia University.
SUNY Downstate Logo

SUNY Downstate Brooklyn Rankings and Quick Facts
SUNY Downstate Medical Center is 150 years old and serves as the chief medical research and education institution in Brooklyn, NYC.
SUNY Downstate ranking
University world Ranking – Jiaotong 500 (China)

305 to 402

American Rank (Jiaotong)

139 to 164

State University of New York Health Science Center Brooklyn Facts

Established

1860

Affiliations

SUNY system
Other US colleges by State
References
SUNY Downstate; List of New York Colleges; Photograph by Jim Henderson.