The SUNY Albany Ranking is 267th in the world in the University Review Rankings. It is ranked as the joint 126th best college in the states by the USnews, and the 373rd best by Forbes.
Requirements for Admission and Tuition Fees (Quick Facts 2014 / 2015)
The SUNY Albany tuition fees are $8,527 for in-state and $20,167 for out of state students. It is a selective college accepting 55.7% of applicants. Financial aid offered totals $44 million per year, an average of $9,730 per student.
SUNY Albany SAT Scores and ACT Scores
SAT scores for admission requirements (25th-75th percentile) are Math 530 – 610, and Reading 500 – 590. The total composite SAT range for accepted applicants is 1010 to 1190.
The requirements for ACT (25th-75th percentile) are Composite 22 – 26.
SUNY Albany Information
Located in New York's state capital, the University at Albany, SUNY offers around 190 degree courses at both under and post graduate level.
Albany is part of the state university of New York system, and is one of its four main centers; the others being located at Binghamton, Buffalo and Stony Brook University.
SUNY Albany, NY has nine main colleges and schools and honors college:
College of Arts and Sciences
College of Computing and Information
College of Nanoscale Science and Engineering
College of Public Affairs and Policy
School of Business
School of Criminal Justice
School of Education
School of Public Health
School of Social Welfare
These offer study across a large range of subjects. Some of the study programs for which Albany is renowned include social science, criminal justice, Education (especially the reading program), African Studies, and nano-science engineering.
Some of the famous faculty and alumni who have passed through the doors at SUNY Albany include writers William Kennedy, Randy Cohen, and Gregory Maguire; Political scientists Michael Malbin and Victor Asal, biologist Joachim Frank; and the diplomat Gerhard Weinberg.
SUNY Albany Address
The university is located at the following address:
University at Albany, State University of New York
1400 Washington Ave.
Albany,
NY 12222
USA
Other colleges in New York State include City University New York City College, Yeshiva University, Syracuse, SUNY Buffalo, SUNY Downstate Medical Center, Rensselaer Polytechnic Institute, Mount Sinai School of Medicine, Stony Brook University, Rockefeller University, New York University, University of Rochester, Cornell University, and Columbia University.
SUNY Albany Logo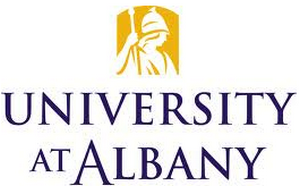 Ranking and Quick Facts
Motto: Sapientia et sua et docendi causa (English: Wisdom both for its own sake and for the sake of teaching).
SUNY Albany ranking
University world Ranking – Jiaotong 500 (China)

203 to 234

American Rank (Jiaotong)

99 to 138

State University of New York at Albany Facts

Students (Undergraduates / PG/ Total)

12013

5027

17040

Faculty / Staff

940

Established

1844

Endowment
$499,632,000 (pooled SUNY colleges)
Research Spending – USA Rank
$259,708,000 – 63rd
Affiliations

SUNY, AEC
Other US colleges by State
References