The Saint Louis University Ranking is in the 432 to 507 range on the University Review World College Ranking List. It is ranked as the 99th best college by the USnews, and as the 191st by Forbes.
Requirements for Admission and Tuition Fees (Quick Facts)
As a private institution the Saint Louis University tuition fees are $37,966 for both in and out of state students. It is a moderately selective college taking in 63.6% of applicants. Financial aid offered totals over $115 million per year, at an average of $26,680 per student.
Saint Louis University SAT Scores and ACT Scores
SAT scores for Saint Louis University admission requirements (25th-75th percentile) are Math 550 – 670,  and Reading 530 – 660. The requirements for ACT (25th-75th percentile) are Composite 25 – 30, English 25 – 31, and Math 24 – 29.
Saint Louis University Information
Saint Louis University (SLU) is a Jesuit-run private university in St Louis, a city in Missouri, United States.
It is among the 28 Association of Jesuit Colleges and Universities member institutions and is the second oldest Jesuit-run college in the country. In the US News and World Report for 2009, the university is ranked 80th among "America's Best Colleges".
SLU has its roots from the Saint Louis Academy which was founded by the Bishop of Louisiana and the Florida's, Most Reverend Louis Guillaume Valentin Dubourg on 16 November 1818. It was placed under Reverend Francois Niel and other secular clergy associated with the Saint Louis Cathedral. The campus was originally located at a private residence in an area close to the Mississippi River which is now a property of the Jefferson National Expansion Memorial.
In 1820, the school's name was changed to Saint Louis College. Through an act of the Missouri Legislature, the college was able to receive a charter as a university after its care was transferred by Bishop Dubourg to the Society of Jesus in 1827. It moved in 1829 to Washington Avenue and Ninth, where the America's Centre stands today. The Saint Louis University then bought "Lindell's Grove," its present site, in 1867.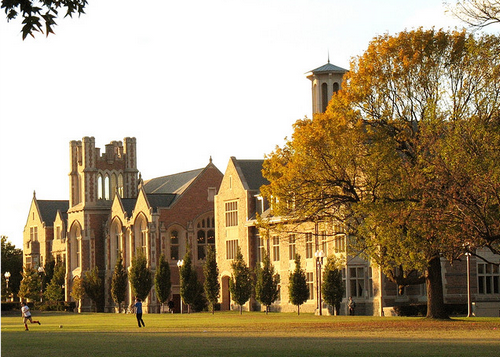 SLU has five colleges, eight schools, and an extension campus in Madrid, Spain. The colleges include the College of Arts and Sciences, Doisy College of Health Sciences, College of Education and Public Service, Parks College of Engineering, Aviation and Technology, and College of Philosophy and Letters. The schools are School of Social, School of Public Health, School for Professional Studies, School of Nursing, School of Medicine, John Cook School of Business, School of Law, and the Graduate School. SLU offers over 85 undergraduate courses, masters and doctorate degrees, professional degrees, and adult education majors and programmes.
The university has produced graduates who have become notable in a wide range of disciplines. Some of its graduates include NBA Hall of Famer, Ed Macauley; Nicaraguan president, Enrique Bolaños; Boston College president, William Leahy; Lawyer and novelist, Richard Dooling; and Arizona Cardinals president, Michael Bidwill, amongst others.
St Louis University Address
Saint Louis University, MO can be found at: 221 N. Grand Blvd. St. Louis, Missouri 63103 USA
Other colleges in Missouri state include University of Missouri Columbia, and Washington University in St. Louis.
Saint Louis University Logo

St. University Rankings and Quick Facts
Motto: Ad Majorem Dei Gloriam English: For the greater glory of God
Saint Louis University ranking
University world Ranking – Times 200 (UK)

N/A

University world Ranking – Jiaotong 500 (China)

305 to 402

University world Ranking – Newsweek 100 (USA)

N/A

American Rank (Jiaotong)

139 to 164

Saint Louis University Facts

Students (Undergraduates / PG/ Total)

7,800

4,900

12,700

Faculty / Staff

1,000

Established

1818

Endowment

$970,000,000

Endowment per student

76,377

Research Spending – USA Rank
$180,309,000 – 86th
Affiliations

AJCU, A-10
Other US colleges by State
References
Saint Louis University; List of Missouri Colleges; Photograph by 黄若云.