The Oregon State University ranking is in the 304 to 309 range in the world on the University Review College Ranking List. It is ranked as the 138th best college in the states by the USnews, and the 323rd best by Forbes. US colleges with similar world rankings include Clemson University, Wayne State University, University of Oklahoma are Northeastern University.
Oregon State University Requirements for Admission and Tuition Fees (Quick Facts 2014 / 2015)
The Oregon State University tuition fees are $8,276 for in-state and $23,540 for out of state students. It is a moderately selective college accepting 79.4% of applicants. Financial aid offered totals $80.5 million per year, an average of $12,970 per student.
Oregon State University SAT Scores and ACT Scores
SAT scores for Oregon State University admission requirements (25th-75th percentile) are Math 490 – 620 and Reading 470 – 600. The total composite SAT Score range for accepted applicants is 970 to 1230.
The requirements for ACT (25th-75th percentile) are Composite 21 – 27, English 19 – 26, and Math 21 – 27.
Oregon State University Information
The Oregon State University (OSU) is situated in Corvallis, Oregon, USA. It is a public university and was established in 1868 upon approval; by the Oregon Legislative Assembly.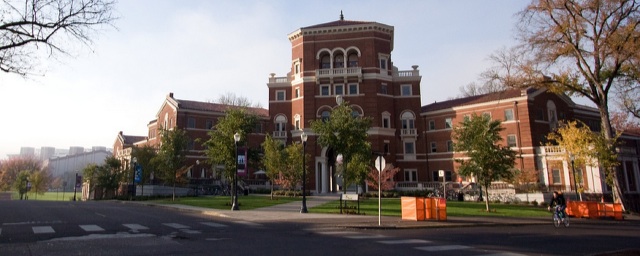 In addition to the main campus at Corvallis, the university has a secondary campus at Bend.
In total there are 14 colleges and schools at the university; these cover the following areas: Pharmacy; Science; Business; Education; Forestry; Oceanic and Atmospheric Sciences; Engineering; Agricultural Sciences; Health and Human Sciences; Liberal Arts;Veterinary Medicine; and Defense Education College. There is also a graduate school, and a honours college. These departments offer over 200 different courses and the university is especially strong in the fields of Zoology, Ecology, Oceanography, Pharmacy and Nuclear Engineering.
Some of the renowned faculty and alumni who are associated with the Oregon State University, Corvallis, OR include the double nobel prize winner Linus Pauling. Other star names of academia include George Poinar, Douglas Engelbart, Octave Levenspiel, Milton Harris, George Oppen and Chris Anderson. In sports Oregon has produced several fine athletes including Dick Fosbury, Chad Johnson, Gary Payton and Jacoby Ellsbury.
Oregon State University Address
SW Jefferson Ave
Corvallis
OR 97331-4501
USA
Other colleges in the state include the University of Oregon and the Oregon Health and Science University.
Ranking and Quick Facts
Motto: Open Minds, Open Doors
Oregon State University Ranking
University world Ranking – Jiaotong 500 (China)

102 to 150

America Rank (Jiaotong)

59 to 76

Basics

Students (Undergraduates / PG/ Total)

19753

3527

23280

Faculty / Staff

2918

Established

1868

Endowment (2006) – USA Rank
$1,996,839,000 – 27th
Endowment per student

$85,775

Research Spending – USA Rank
$180,309,000 – 86th
Number of foreign students (if known)

4,476

Affiliations

PAC-10
Other US Colleges by State
References