McMaster University Information
As far as research goes, one of the most research intensive universities around has to be McMaster University (Mac). The McMaster University ranking is 4th best in Canada, and 67th in the world. Similarly rated Canadian colleges include University of Alberta, McGill University, University of British Columbia, University of Montreal and University of Toronto. In terms of the size of the student body and the size of the university, the amount of research done there is enormous. The output is very impressive; especially in the biological sciences. The medium sized campus makes it a good choice for a student looking to get some really intense instruction in a specific discipline; the school only has about 20,000 students attending it on a regular basis. It has an alumni population of 120,000 people.
One of the biggest advantages of going to McMaster University is that you are going to be attending an institution that really knows what innovation is all about. They have long been known as Canada's most innovative university and even people from outside the province of Ontario (McMaster is located in Hamilton) know that things are done in original ways when it comes to both teaching and research at McMaster University. The innovative attitudes combined with the smaller student body has really served to create a welcoming atmosphere on the campus and ultimately the people that benefit the most from that are the students themselves.
McMaster's courses are organized into the faculties of Engineering, Health Science, Humanities, Science, Social Science and the DeGroote School of Business. Of all of these different faculties, the Faculty of Health Science is perhaps the best known one both in Canada and internationally, because so many of the classes and programs available through that school are helpful to students in getting ahead in the world. McMaster graduates more people ready for medical school in the real sense (i.e. not just ready in terms of having a degree, but ready in terms of meeting all of the challenges of medical school) relatively than any other university in Canada. This is because of the innovative and comprehensive education that students get as a member of the McMaster Faculty of Health Science. All in all, it is definitely worthy of consideration.
McMaster University Address
1280 Main St. West,
Hamilton
Ontario
L8S 4K1
Canada
McMaster University Logo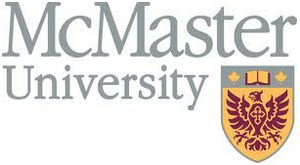 Ranking and Quick Facts
Motto: τα παντα εν χριστωι συνεστηκεν – All things cohere in Christ
The university is ranked as the 65th best in the world by the THE.
References