The Kansas State University ranking is in the range of 316 to 324 in the world on the University Review College Ranking List. It is ranked as the 142nd best college in the states by the USnews, and the 367th best by Forbes.
Requirements for Admission and Tuition Fees (Quick Facts 2014 / 2015)
The Kansas State University tuition fees are $9,034 for in-state and $22,624 for out of state students. It is not a selective college, taking in 95.9% of applicants. Financial aid offered totals $51 million per year, an average of $11,660 per student.
Kansas State University SAT Scores and ACT Scores
SAT scores for Kansas State University admission requirements are at least 980 (combined; both in- and out-state applicants).
The requirements for ACT area composite score of at least 21 (Both Kansas residents and non-residents).
It is also a requirement of the university to complete the Kansas pre-college curriculum course with a GPA of at least 2.0 (on the 4 scale).
Kansas State University Information
Kansas State University (K-State) is located in Manhattan in the USA state of Kansas; a secondary campus is present in Salina.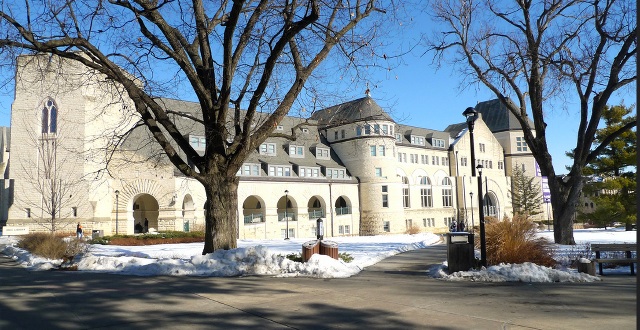 The university can trace its roots back as far as the late 19th century when it was established as an agricultural college under the Morrill act.
Today it is home to more than 23,000 students, who study a wide range of subjects that on offer from sixty different departments. The university is currently presided over by President Kirk H. Schulz.
The university has nine main colleges:
College of Agriculture
College of Architecture
College of Planning, and Design
College of Arts and Sciences
College of Business Administration
College of Education
College of Engineering
College of Human Ecology
College of Technology and Aviation (in Salina)
College of Veterinary Medicine
Kansas State University, Manhattan, KS is well known for its sports teams (known as the wildcats) who compete at the highest level possible in colligate sports NCAA division 1, and in the big ten conference.
Kansas State University Address
119 Anderson Hall
Manhatten
Kansas State
66506
United States of America
Other colleges in Kansas include the University of Kansas.
Ranking and Quick Facts
Motto: Rule by Obeying Nature's Laws
Also known as Kansas State University of Agriculture and Applied Science.
Kansas State University ranking
University world Ranking – Jiaotong 500 (China)

305 to 402

American Rank (Jiaotong)

139 to 164

K-State Facts

Students (Undergraduates / PG/ Total)

19,000

4,000

23,332

Faculty / Staff

1242

Established

1863

Endowment (2006) – USA Rank
$453,200,000 – >140
Endowment per student

$19,424

Research Spending – USA Rank
$123,398,000 – 112th
Affiliations

ASAIHL, Big 12 Conference, NASULGC
Other US colleges by State
References