The IUPUI ranking is in the range of 432 to 507 on the University Review World College Ranking List. It is ranked as the 194th best college by the USnews, and as the 607th by Forbes. US colleges with similar world rankings include the San Diego State University, University of Alaska Fairbanks, University of New Hampshire, and the Thomas Jefferson University. Similar world ranked universities include Istanbul University, Universidade Estadual Paulista, Swansea University, and Tokyo University of Agriculture and Technology.
Requirements for Admission and Tuition Fees (Quick Facts 2014 / 2015)
The IUPUI tuition fees are $8,909 for in-state and $30,089 for out of state students. It is a moderately selective college taking in 69.6% of applicants. Financial aid offered totals over $89 million per year, an average of $9,430 per student.
IUPUI SAT Scores and ACT Scores
SAT scores for IUPUI admission requirements (25th-75th percentile) are Math 450 – 560, Reading 430 – 550, and writing 420 – 530. The composite SAT scores range from 890 to 1120.
The requirements for ACT (25th-75th percentile) are Composite 19 – 25, English 18 – 25, Math 18 – 25, and Writing 7 – 9.
IUPUI (Indiana University – Purdue University at Indianapolis) Information
The IUPUI is located at Indianapolis and is a collaboration by the Purdue university and the University of Indiana. It was established in 1969 and is currently overseen by Charles Bantz.
Students who study at the IUPUI receive their degrees from either Indiana or Purdue as opposed to one from IUPUI itself. The university has a large array of courses to choose from, offering over 180 degrees at undergraduate level and a further 70 at postgraduate level.
The IUPUI, Indianapolis, IN has nineteen different schools, most of which contain specialised departments within them. The major topics of study that the schools cover are Art and Design; Business; Dentistry; Education; Engineering and Technology; Health and Rehabilitation Sciences; Informatics; Journalism; Labour Studies; Law; Liberal Arts; Library and Information Science; Medicine; Music; Nursing; Physical Education and Tourism Management; Public and Environmental Affairs; Social Work; and Science.
Despite being a relatively young institution the IUPUI has seen many distinguished faces pass through its gates. Alumni of IUPUI including the former Vice-president of the USA Dan Quail and the Astronaut David Wolf. From times before the merger IUPUI's alumni include the Artist Vija Celmins and Bill Pete; and Senators Jackson, Robinson and Nuys.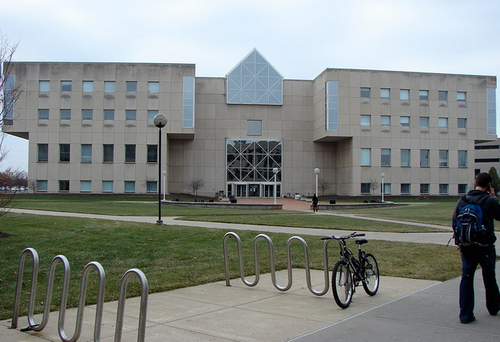 Other Indiana colleges include the University of Notre Dame, Indiana University Bloomington, and Purdue University.
IUPUI Address
IUPUI
420 University Blvd.
Indianapolis,
Indiana 46202
USA
IUPUI Logo
Indiana University – Purdue University at Indianapolis Rankings and Quick Facts
Motto: Where IMPACT is made
Often called IUPUI
IUPUI ranking
University world Ranking – Times 200 (UK)

N/A

University world Ranking – Jiaotong 500 (China)

305 to 402

University world Ranking – Newsweek 100 (USA)

N/A

Americas Rank (Jiaotong)

139 to 164

IUPUI Facts

Students (Undergraduates / PG/ Total)

21,200

8,655

29,855

Faculty / Staff

3,080

Established

1969 (can trace it's roots back to 1911)

IUPUI Location

Indianapolis, USA

Endowment

$23,200,000

Endowment per student

$1,079

Number of foreign students

1,140

Affiliations

University of Indiana, Purdue University
References
Other US colleges by State
IUPUI; List of Indiana Colleges; Photograph by lmgadelha.