Free University of Brussels Information
The Vrije Universiteit Brussel, (VUB), is a Flemish speaking university located in Brussels, Belgium.
It has two campuses referred to as Etterbeek and Jette. The university name translates as the Free University of Brussels in English, but was restricted from using translations of its name or abbreviations due to possible confusion with other universities that have the same translated name, such as the Université Libre de Bruxelles.
Other colleges and universities in Belgium include Catholic University of Leuven, Ghent University, Université Catholique de Louvain, and the University of Liege.
The university was formed in 1970 by the splitting of the said Université Libre de Bruxelles that was founded by the the Flemish-Brussels lawyer Pierre-Théodore Verhaegen in 1834. The modern motto of the university, Conquering darkness by science or Scientia vincere tenebras, reflects the prevalent academic freedom of the institution. The Free University of Brussels is open to all students on the basis of equality regardless of social or cultural background, ideological and political background, which is why it is known as a pluralistic university. It has managed to successfully use democratic structures wherein members –faculty and students—participates in the decision making processes.
The Vrije Universiteit Brussel is organized into eight different faculties that accomplish the three central mission of the university namely: research, education and service to the community. A broad range of fields of knowledge such as classics, social sciences, life sciences, natural sciences, engineering and humanities are covered by its faculties.
The university offers bachelor and postgraduate education to approximately 8,000 undergraduates and 1,000 graduate students. It has led to its top 214 university ranking among the strongly research-oriented universities worldwide. Its research articles are on average cited more than articles by any other Flemish university.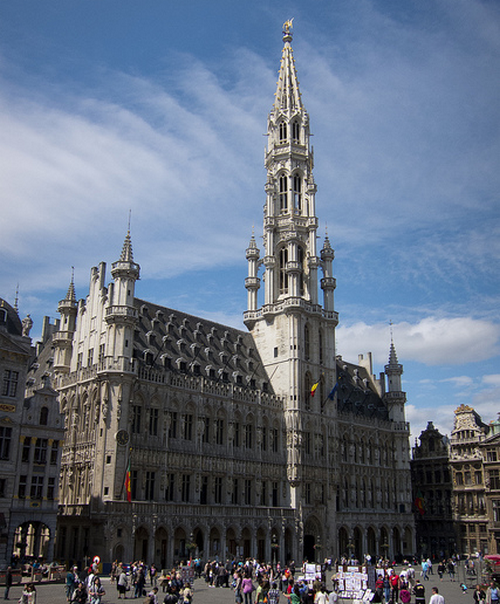 The Free University of Brussels is an independent institution and all the members of its governing entities including researchers, faculty staff, personnel and students—are chosen by the entire academic community. Such system guarantees the independence and democratic decision process from the state and outside organizations. The university receives significant funding from the Flemish government and other essential funding sources (mostly from European and Belgian funding agencies) grants for scholarships of academic members, research projects, revenues from cooperation with industry as well as tuition fees to a lesser extent.
Free University of Brussels Address
The Free University of Brussels address is located at:
Vrije Universiteit Brussel
Boulevard de la Plaine 2
1050 Ixelles
Belgium
Free University of Brussels Logo

Vrije Universiteit Brussel – VUB – Free University of Brussels Rankings and Quick Facts
Motto: Scientia vincere tenebras. English: Conquering darkness by science.
Free University of Brussels ranking
Ranking – Times 200 (UK)

= 229

University world Ranking – Jiaotong 500 (China)

305 to 402

European Rank (Jiaotong)

124 to 172

Vrije Universiteit Brussel Facts

Students (Undergraduates / PG/ Total)

10,840

Faculty / Staff

2,580

Established

1834 / 1970

Affiliations

University Association Brussels, UNICA, T.I.M.E.
References
Free University of Brussels; Photograph by quinet.