The Clemson University Ranking is 81st in the top 100 colleges list and in the range of 316 to 324 in the world rankings on the University Review College Ranking List. It is ranked as the 62nd best college by the USnews (2014 update). US colleges with similar world rankings to Clemson include Oklahoma, Northeastern University, Oregon State University, and Wayne State University.
Requirements for Admission and Tuition Fees (Quick Facts 2014 / 2015)
The Clemson University tuition fees are $13,382 for in-state and $30,816 for out of state students. It is a selective college taking in 57.2% of applicants. Financial aid offered totals $98.5 million per year, an average of $11,250 per student.
Clemson University SAT Scores and ACT Scores
SAT scores for Clemson University admission requirements (25th-75th percentile) are Math 59 – 680, Reading 550 – 650, and writing 540 – 640.
The requirements for ACT (25th-75th percentile) at Composite are 26 – 30.
Clemson University Information
Having been established in 1889 Clemson University has grown in size to cover an area of 17,000 acres and now caters for over 21,300 students.
The current president of Clemson is James Clements.
There are five major colleges at Clemson:
College of Agriculture, Forestry and Life Sciences
College of Architecture, Arts and Humanities
College of Business and Behavioral Sciences
College of Engineering and Science
College of Health, Education and Human Development
Clemson University, Clemson, SC is currently ranked as the 81st best American college in the PBA rankings and was listed 61st by the US news college rankings. The university has an aim of becoming one of the top twenty institutions in the USA, and is investing heavily in new programs to make this a reality in the future.
Clemson University Address
Clemson University
Clemson,
South Carolina 29634
United States of America
Other colleges in the state include the Medical University of South Carolina and the University of South Carolina.
Clemson University Logo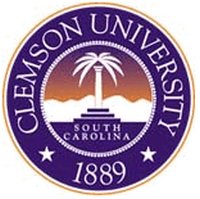 Clemson University Rankings and Quick Facts
Clemson is located in South Carolina.
Clemson University Ranking

University world Ranking – Times 200 (UK)

N/A

University world Ranking – Jiaotong 500 (China)

305 to 402

University world Ranking – Newsweek 100 (USA)

N/A

USA College rank (PBA)

81

USA College Rankings US news

61

America Rank (Jiaotong)

139 to 164

Clemson University Facts

Students (Undergraduates / PG/ Total)

16,930

4,370

23,000

Clemson Location
South Carolina, USA
Faculty / Staff

1265 / 2950

Established

1889

Endowment (2006) – USA Rank

$339,000,000

Endowment per student

$19,584

Research Spending – USA Rank
$175,127,000 – 92nd
Affiliations

ACC
Other US Colleges by State
References
Clemson University; List of South Carolina Colleges; Photograph by hager.angie.