Arizona State University ranking is 79th in the USA and 94th in the world in the University Review Listings; it is currently ranked 142nd in the national lists by the US news. It is ranked as the 362nd best college in USA by Forbes.
Requirements for Admission and Tuition Fees (Quick Facts)
The Arizona State University tuition fees are $10,002 for in-state and $23,654 for out of state students. It is a moderately selective college taking in 87% of applicants. Financial aid offered totals $245 million per year, an average of $12,700 per student.
Arizona State University SAT Scores and ACT Scores
Arizona State University Admission Requirements for SATs (25th-75th percentile) are Math 490 – 620, and Reading 480 – 600.
The requirements for ACT (25th-75th percentile) are Composite 21 – 27, English 20 – 27, and Math 20 – 27.
Arizona State University Information
Arizona State University, Tempe, AZ is a public university located within the metropolitan area of Phoenix at Tempe. It was founded in 1885 and its president is Michael Crow.
The institution is mainly located in Tempe and is well known for a lot of things, one of which is its recent success in having 188 National Merit Scholars enroll in its facility to start their academic post secondary experience. It is a very noteworthy achievement and one that has given the University national presence.
There are currently around 62,000 students enrolled at Arizona State University, with the split around 4 to 1 in favor of undergraduate students. The school colors are maroon and gold, and the teams are known as the Sun Devils.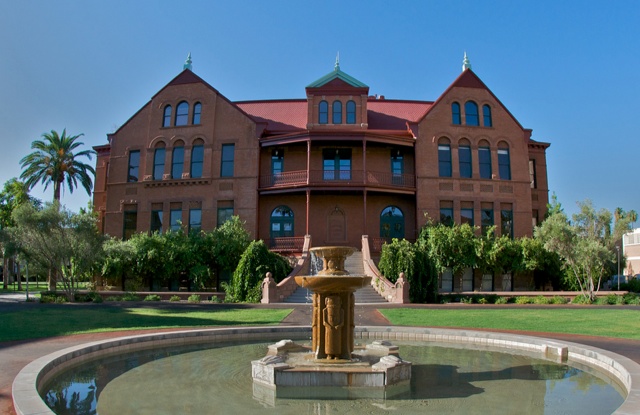 Arizona State University has a lot of strengths in many different sciences, but the one that you are likely to hear strongly associated with their name is planetary science. This is because the United States is the world leader in this discipline and a lot of the research done in planetary science is done through Arizona State. This is not to cast aspersions on any of the other disciplines taught at ASU as many are excellent as well. Regardless of the discipline you choose to take up, you can be assured of getting a very good education.
Excellence is not exclusive to science alone as the university has attracted a lot of noted professors to ASU in fields such as history, theology and English.
Other universities in the state include the Northern Arizona University and University of Arizona.
Arizona State University Address
University Dr & Mill Ave
Tempe
Arizona 85287-6006
USA
Arizona State University Logo

Ranking and Quick Facts
The College's motto "Students First" and credo "In Service of Children"
The university is ranked as the 127th best in the world by the THE.
There are currently 59,794 students enrolled at Tempe, and 72,254 across all of the campuses; 58,404 are UGs and 13,850 PGs. Founded in 1885, ASU is currently overseen by the President Michael M. Crow.
Other US colleges by State
References