The Wayne State University Ranking is 275th in the world on the University Review College Ranking List. It is ranked as a Tier 2 college in the states by the USnews, and the 574th best by Forbes. US colleges with similar world rankings to Wayne State include Northeastern, OSU, Clemson, and the University of Oklahoma.
Requirements for Admission and Tuition Fees (Quick Facts 2014 / 2015)
The Wayne State University tuition fees are $12,350 for in-state and $26,592 for out of state students. It is a moderately selective college accepting 76.2% of applicants. Financial aid offered totals $85 million per year, an average of $10,030 per student.
Wayne State University SAT Scores and ACT Scores
SAT scores for admission requirements are not reported for the previous year. Though you must have a SAT score total of 990 to apply.
The requirements for ACT (25th-75th percentile) are Composite 19 – 26, English 17 – 25, and Math 17 – 25. The minimum required ACT composite score for application is 21.
Wayne State also offers admission through its APEX program.
Wayne State University Information
The Wayne State University was established in 1868, and is located in the American city of Detroit.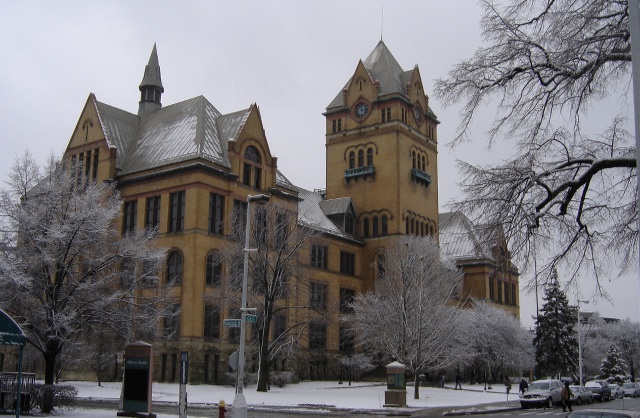 It is a large university attracting around 33,000 students; these are able to study from a choice of 350 degree programs. The university, which is especially renown for it's science programs is currently overseen by president Irvin Reid.
As noted above there are over 350 programs available for study at Wayne state university, Detroit, MI; these subjects are covered by twelve major colleges and schools:
College of Education
College of Engineering
College of Fine, Performing, and Communication Arts
College of Liberal Arts and Sciences
Honors College
College of Nursing
College of Pharmacy and Health Sciences
School of Business Administration
Graduate School
Law School
School of Medicine
School of Social Work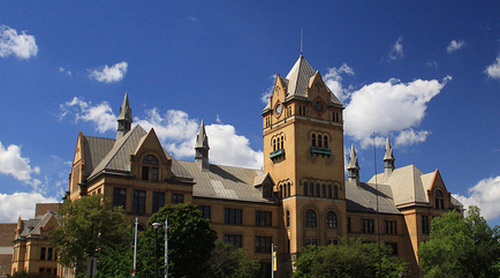 Wayne State University Address
Wayne State University
Detroit
Michigan 48202
United States of America
Other colleges in the state include the Michigan Technological University, Michigan State University, and the University of Michigan.
Wayne State University  Logo

Wayne State University Rankings and Quick Facts
Motto: Industry, Intelligence, Integrity
Wayne State University ranking

University world Ranking – Times 200 (UK)

N/A

University world Ranking – Jiaotong 500 (China)

203 to 304

University world Ranking – Newsweek 100 (USA)

N/A

American Rank (Jiaotong)

99 t0 138

Wayne State University Facts

Students (Undergraduates / PG/ Total)

21,145

12,095

33,240

Faculty / Staff

2,700

Established

1868

Endowment

$210,000,000

Endowment per student

$6317

Research Spending – USA Rank
$226,331,000 – 72nd
Number of foreign students (if known)

2,964

Affiliations

CHA, GLIAC
Other US colleges by State
References
Wayne State University; List of Michigan Colleges; Photograph by meeshypants.