The University of Rochester Ranking is as 34th top USA college and 70th best uni in the world on the University Review College Ranking Lists. It is ranked as the joint 33rd best college in the states by the USnews, and the 62nd best by Forbes.
University of Rochester Requirements for Admission, ACT & SAT Scores, and Tuition Fees (Quick Facts 2014 / 2015)
The total composite SAT Score range (verbal plus math; middle 50%) for accepted applicants is 1250 to 1450.
The admission requirements for ACT (25th-75th percentile) at Composite is 29 – 32.
The University of Rochester tuition fees are $46,960 for both in-state and out of state students. It is a very selective college accepting 36% of applicants. Financial aid offered totals $121.5 million per year, an average of $38,020 per student.
An Overview of the University of Rochester Ranking and Facts
Student body
The University of Rochester has a current enrolment of 10,500 students, of these 9,308 study (88.6%) full time at the undergraduate (55.6%) or graduate (33%) levels. The male: female ratio is close to 50:50, with ever so slightly more women than men.
The ethnic break down at the undergraduate level is: white, 3332 (53.9%), Asian, 639 (10.3%), Hispanic, 346 (5.6%), and Black, 289 (4.7%); a further 923 (14.9%) students are classified as non-resident aliens with unknown ethnicity.
The majority of the student body derives from New York State (2991, 32.3%), followed by Massachusetts (406, 4.4%), Pennsylvania (395, 4.3%), New Jersey (321, 3.5%), and California (309, 3.3%). The diversity is added to by a total of 2,556 (27.6%) foreign students.
The tuition fees are the same for both in- and out of state students. They are presently set at $44,580, with fees of $792. For those requiring food and board at the institution, there is a further fee of $13,128. Book related costs add approximately $1,290 per annum. Taken together with a few additional expenses the total expected cost to study at the University of Rochester is $61,430 per year. However, eighty-eight percent of students are provided with some sort of grant or scholarship aid, with an average institution grant aid of $24,233. So, although study at the institution is relatively expensive it is noteworthy that the vast majority of students receive needs and merit related aid.
The number of students who graduate within four years is 74%, this is quite high and reflects the expensive costs associated with studying at the university, with many students getting stuck into their work and graduating as soon as possible.
By far the largest school, is that of Arts & Sciences which has a current enrollment of 5,239, this is followed by the Eastman School of Music (637), the Hajim School of Engineering (509), and the School of Nursing (384).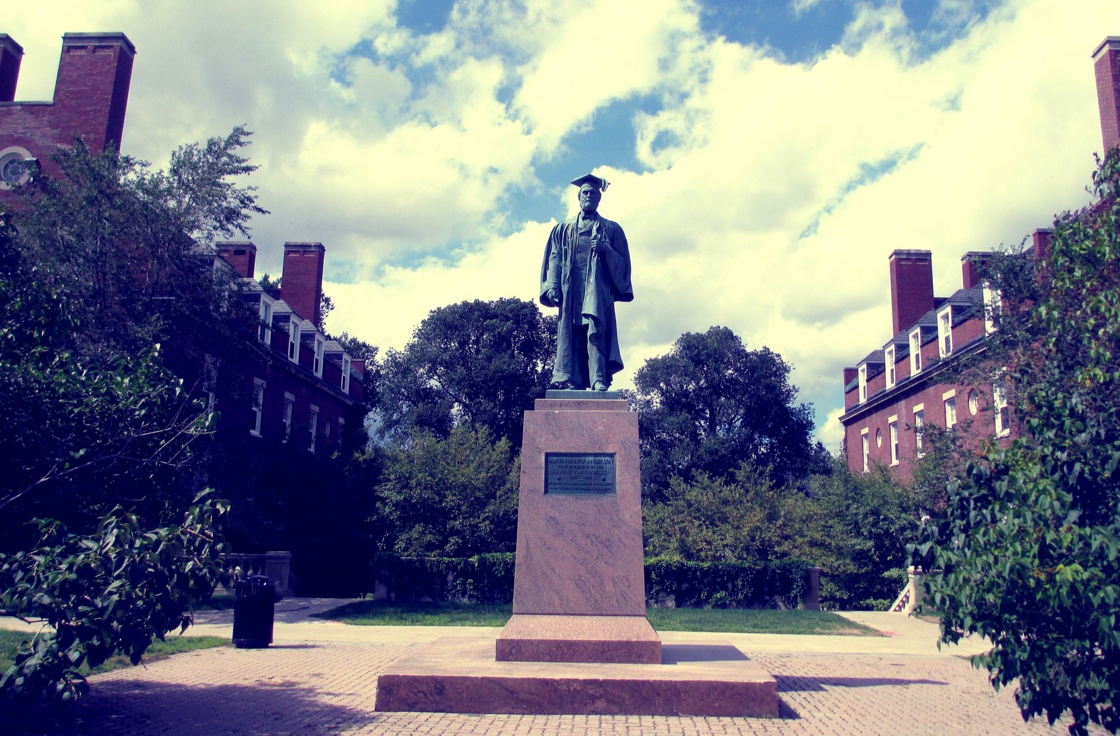 Academic programs
Rochester is a prestigious university that ranks highly, both academically and in value for money terms at its relative level. Its business school is rated highly for key areas such as finance, accounting, and managerial economics, and its graduate music school the best in the country.
There are over 200 academic programs offered, with over 75 undergraduate majors available and more than 50 graduate programs. In all, 1629 degrees were awarded at the undergraduate level in 2012 – 2013. There were 3,006 degrees awarded the previous year with a break up of 53.4% Bachelor's, 34.2% Master's, and 12.3% at the doctoral or similar level.
Campus
The suburban campus is located on 600 acres, consists of 158 buildings, and considered to be medium sized with an undergraduate body of 5,837, with around 1300 new freshmen admitted each year.  The university competes in 19 varsity sports (9 men's, 10 women's) at NCAA division III level. The main campus is located by the Genesee river, approximately two miles from the main downtown area of Rochester, and is surrounded by a public park. The medical center is located in close proximately, while the school of music is located downtown; there is also a South campus.
Number of Faculty
There are 1,329 full time tenure track faculty, 813 of which are attached to the school of Medicine and Dentistry. In all, there are 4,284 members of faculty at the university, with 93% of these involve in student instruction. There are 2,235 (52%) full time members of faculty, and 2,049 (48%) part-time. In addition to the faculty there are a further 18,167 members of staff employed by the university, bringing the total to 22,451.
Student Admission
Approximately 36% of applications to study at the institution were admitted, of which 8% enrolled. To gain entry you will need to pass an admissions test and to complete a college preparatory program. The fee for applying to study as an undergraduate is $60 and for a graduate is $25. 82% of successful students submitted SATs and 38% ACTs. The middle 50% for the SAT scores ranged from 600 – 690 for reading, 610 – 700 for writing, and 630 – 730 for mathematics. For the ACT the middle 50% range was 27 – 33 for English, 27 – 33 for math, and the composite was 29 – 32. Details of how to apply to Rochester can be found here. The mailing address is 300 Wilson Blvd. Rochester, NY 14627-0011, and the admissions contact number is (888) 822-2256.
Student Experience
The vast majority of students feel that they are learning a lot during their time at the university, and feel that one of the main things that makes Rochester special is its curriculum. This is because, other than a writing class there are no other required courses for passing a major. This enables students to concentrate on their core subjects and to study minor subjects that they are interested in within a cluster of core minor subjects (in the humanities, natural sciences, and social sciences), and not because they are some sort of compulsory necessity. Many people point out that the educational instruction provided is excellent and that the professors are knowledgeable and approachable.
Some students are concerned that some of the introductory classes are too large and demanding as they contain hundreds of students (this is quite a common phenomenon shared by many colleges). Although this is intimidating, it is not normally that bad as people are often placed within smaller workgroups where they can study at a more intimate level.
Although the University of Rochester is an expensive school to attend, many feel that it still offers good value for money due to the freedom of following an academic program of their own choice, and the fact that most students receive financial aid.
With over a quarter of students being from overseas many scholars point out how much they enjoy the diversity of the place, and how they enjoy hanging out and studying with people who have very different backgrounds to their own.
The college has a large Greek population and it feels like there are a lot of fun social activities and parties aplenty, especially during the freshman year, when everyone is out to have fun. People also point out that the city itself has numerous small music and comedy venues to visit, and all the amenities associated with a big city, even though its relatively small in size.
One of the things that is a bit of a drawback is safety, with the university being close to a crime ridden area. However, the campus itself is considered safe as it has its own security guards and a blue light helpline telephone system in place. Another drawback is that the area gets very cold in the winter; fortunately there is a network of underground tunnels that connects buildings on campus to the library to prevent students having to face the extremes.
Further University of Rochester Information
The University of Rochester is a nonsectarian, coeducational, private research university, located in Rochester, New York. Founded in 1850, the University offers bachelor's, master's, and doctoral level degree programs in optics, health and society, medicine, philosophy, economics, psychology, political science, religion, business administration, nursing, and music, to name a few.
Considered one of the best in US, the University has been consistently ranked amongst the top institutions in the country and is currently placed 21st in the Washington Monthly College Rankings list. Also, University of Rochester is one of the 60 elected institutions to be a part of the coveted Association of American Universities.
The main campus – River Campus – of the University of Rochester is located by the Genesee River, about 2 mile south of Rochester downtown. Its other campuses, South Campus, Mt Hope Campus, and Medical Center are all situated nearby, with the exception of the C. E. K. Mees Observatory, which is located at Bristol Hills, about 40 miles south of Rochester. A total of 4,220 full-time graduate students and 17,075 faculty and staff studies and serves the University.
On the academic front, the University of Rochester offers 175 degree programs in total, in the three categories – bachelor's, master's, and doctoral. The university also offers numerous interdisciplinary study programs, special programs and certifications, study abroad, and academic internships in US and abroad. However, in Rochester, the stress is not on academics alone, but there are also ample opportunities for the students to follow their tastes, interests and hobbies, a fact testified by its 200 odd organizations and student media that exists in the campus. The university policy is tailor made for the overall development of the student.
In terms of infrastructure and facilities, every scholarly initiative in the University of Rochester is backed up by four top-notch libraries housing more than 3.5 million volumes, making it one of the top 50 research libraries in the country. The campus also has two museums – the Memorial Art Gallery and Hartnett Art Gallery. Other facilities in the campus include multimedia library, golf courses, sports complex, medical center, theater, swimming pool, and athletic stadium.
University of Rochester Address
252 Elmwood Ave
Rochester
NY 14627
USA
Mailing Address
500 Joseph C. Wilson Blvd.
Rochester
NY 14627
Other colleges in New York state include Columbia, Cornell, New York University, Rensselaer Polytechnic Institute, CUNY City College, SUNY Stony Brook, Syracuse University, Downstate Medical Center, SUNY Albany, MSSM, Rockefeller University, Yeshiva, and the University at Buffalo.
University of Rochester Logo
Rankings and Quick Facts
Motto: Meliora – Always better.
The University of Rochester ranking makes it the 81st best in the world by the THE, and is currently ranked at number at number 70 in the world, and 34 in the USA by university review.
Other US colleges by State
References