The University of Georgia ranking is 61st in the USA and joint 150th in the world on the University Review College Ranking List. It is ranked as the 62nd best college by the USnews. It is ranked as the 94th top college in USA by Forbes.
Requirements for Admission and Tuition Fees (Quick Facts 2014 / 2015)
The University of Georgia tuition fees are $10,836 for in-state and $29,046 for out of state students. It is a selective college taking in 55% of applicants. Financial aid offered totals $160 million per year, an average of $11,170 per student.
University of Georgia SAT Scores and ACT Scores
SAT scores for admission requirements (25th-75th percentile) are Math 560 – 670, Reading 560 – 660, and writing 560 – 660. The composite SAT scores range from 1140 to 1330.
The requirements for ACT (25th-75th percentile) are Composite 26 – 30, English 25 – 31, Math 24 – 29, and Writing 7 – 9.
University of Georgia Information
University of Georgia (UGA) is situated in Athens in the United states of America. It was established towards the end of the 18th century by the Georgia General Assembly and is currently headed by it's president Michael Adams.
The University of Georgia, Athens, GA has 16 colleges and schools and offers programs in the following areas: Arts and Sciences; Business; Ecology; Education; Environmental Sciences; Environment and Design; Family and Consumer Sciences; Forestry and Natural Resources; Journalism and Mass Communication; Law; Pharmacy; Public Health; Public and International Affairs; Social Work; and Veterinary Medicine.
The students of the University of Georgia are well travelled with around 17% of graduates having experience of studying abroad, to this aim the university offers over 75 programs that give the students chance to participate abroad. In total this allows for study in 24 countries. It is though that by given a student the opportunity to study abroad that it will result in a much more rounded education.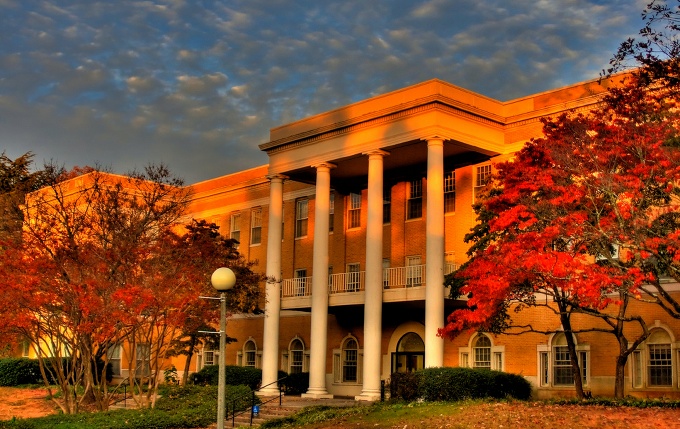 As it is one of the Public Ivies, the education offered is similar to found at places like College of William & Mary, University of Arizona, University of Connecticut, and University of Iowa.
University of Georgia Address
Terrell Hall
Athens
GA 30602
United States of America
Other colleges in Georgia state include Medical College of Georgia, Georgia Institute of Technology, and Emory University.
Ranking and Quick Facts
Motto: Et docere et rerum exquirere causas (English: To teach and to inquire into the nature of things).
University of Georgia Ranking

University world Ranking – Times 200 (UK)

= 295

University world Ranking – Jiaotong 500 (China)

102 to 150

PBA Best American Colleges

61

USnews USA college Rank

58

American University rank (Jiaotong)

59 to 76

Facts

Students (Undergraduates / PG/ Total)

25335

8496

33,831

Faculty / Staff

9383

Established

1785

Endowment – USA Rank
$518,823,000 – 121st
Endowment per student

$15,335

Research Spending – USA Rank
$316,806,000 – 49th
Affiliations

SEC, Public Ivy
Other US colleges by State
References