The University of Alabama at Birmingham Ranking is 74th best college in the USA and joint 326th best university in the world in our Listings. It is ranked as the 149th best college in the states by the USnews, and the 528th best by Forbes.
University of Alabama at Birmingham Requirements for Admission, ACT & SAT Scores, and Tuition Fees (Quick Facts 2014 / 2015)
The total composite SAT Score range (verbal plus math; middle 50%) for accepted applicants is 1040 to 1290.
The admission requirements for ACT (25th-75th percentile) at Composite is 22 – 28.
The University of Alabama at Birmingham tuition fees are $9,280 for in-state and $21,220 for out of state students. It is not a selective college accepting 87% of applicants. Financial aid offered totals $37.5 million per year, an average of $8,940 per student.
University of Alabama at Birmingham Information
The University of Alabama at Birmingham (UAB) is an urban university in the United States. It was founded in 1969 but can trace its roots back as far as 1936.
It is a public university and today offers close to 140 degrees across its 13 schools. The University of Alabama ranking is considered to be very good as it offers very good value in terms of costs versus quality of education, and is very strong in the fields of physical therapy, nursing and medicine.
The UAB has 12 main schools, and a graduate school; these offer education in the broad areas of Arts and Humanities; Business; Dentistry; Education; Engineering; General Studies; Health Professions; Medicine; Natural Sciences and Mathematics; Nursing; Optometry; Public Health; and Social and Behavioral Sciences.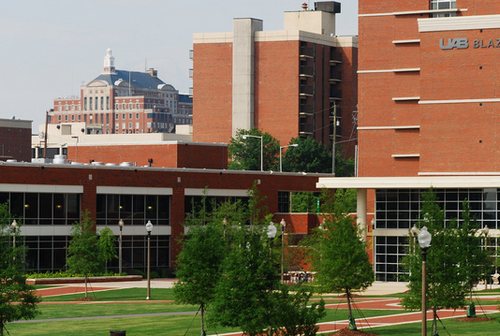 University of Alabama at Birmingham Address
The university is located at the following address:
University of Alabama at Birmingham
7th Ave S,
Birmingham
AL 35233
USA
Other colleges in Alabama state include the University of Alabama at Tuscaloosa – UA, University of South Alabama, Troy University, University of Alabama at Birmingham (UAB), and Auburn University.
An In-depth Look at the University of Alabama at Birmingham Facts
There are currently 17,543 students attending the University of Alabama at Birmingham. Of these, 68% study full time and 32% part-time.  The sexual break up of the full time students is 42 male: 58 women. (0.73:1). Last year 5,082 applied to the school and 72% were accepted. Undergraduates (10,661) make up  60.1% of the student body, graduates (6,515) make up 37.1%, and the remainder follow non-degree programs. The average age of full time students is 23.3, and that of part-time students 32.3.
The largest academic unit is the school of Arts and Sciences, with a body of 7,231 (42%), next largest are the schools of business (2,177; 12.1%) and nursing (2,164; 12.0%). The smallest schools are those of optometry (200; 1.1%) and dentistry (253; 1.4%).
The proportion of students taking undergraduate degrees is 62.7%, masters degrees 23.8%, and doctoral level degrees 13.5%.
The largest ethnic groups break down is: white 11,419 (63.4%); Black or African American 3,862 (21.5%); Asian 840 (4.7%); and Hispanic/Latino 438 (2.4%).
The in-state tuition fees are presently $6,798, on campus accommodation costs $9,174, and it is expected that scholars will spend approximately $1,000 a year on books. Therefore a person from Alabama is expected to spend approximately $17,500 a year to attend the university. For out-of-staters the tuition fee at the University of Alabama at Birmingham is $15,462, bringing the total expected spend per annum to about $26,200. In addition to living in university provided accommodation, many people choose to live in the city or in lodging provided by the Greek letter organizations, of which there are 22.
The majority of undergraduate students come from Alabama state (81.9%), with other states representing 14.8% of the student body, and those from overseas 3.3%.
Learners attending the university were awarded $7,153,052 in aid for the last college year. Seventy-seven percent were awarded grants (average $5,996), 57% student loans (average $6,073), and 57% Federal loans (average $5,784).
The vast majority of people attending the establishment consider it to be worth the money, and are keen to point out that they are more likely to award financial aid scholarships and grants than the State run schools. The medical school is especially well thought of.
The establishment is split into 12 major academic divisions and these provide 140 academic programs to students. There are a multitude of activities to keep you busy during your time at the university, with over 150 student organizations present on the UAB campus.
The institution is considered to be a medium sized campus. It spans around 83 blocks of the Southside part of downtown Birmingham, Alabama. There are three main parts to the campus: the medical center, East of Campus green; the Academic center, covering University Boulevard south and Campus green west; and the sports facilities west of campus.
There are currently 2,286 members of faculty; of these 2228 (52%) are full time, and 2,058 (48%) part-time.
Approximately 16% of all students graduate within four years, and 40% within six. This is quite a bit longer than the norm, and you may want to think about the costs involved in having to spend an extra year or so to complete study of your degree. Of the 3,831 scholars who graduated last year, 2,047 (53.4%) were awarded bachelor's degrees, 1,297 (33.8%) Master's degrees, and 487 Doctoral or specialized degrees (12.7%).
UAB Admission Requirements
Approximately 72% of people who applied to learn at the establishment were accepted. The vast majority of potential students submitted ACT readiness assessments (93%); the middle 50% for ACT scores ranged from 21 – 28 at English, 20 – 26 at Math, and a composite score of 21 – 27. Five percent applied for undergraduate admission based on their SAT scores; the middle 50% for SAT scores ranged from 500 – 640 for Mathematics, and 500 – 630 for reading. The application fee for undergraduates is $30 and for graduates it is $45. Further details of how to apply as an undergraduate can be found here.
The admissions address is Hill University Center, Room 260 Birmingham, AL 35294-1150, and the telephone number: (205) 934-8221.
Student Experience
Learning wise, the university is generally considered a great place to study by the students, with many stating that programs in the medical field are especially strong. The professors are considered to be both good at teaching and to be approachable. The pace of learning is fast, with many undergraduates expression surprise at just how fast they are acquiring new knowledge and delight at how interesting their topics of study are; this is usually a sign of good teaching and advice. As the UAB is a prestigious establishment it is no surprise to find that some of the courses are tough and involve a lot of effort to pass, that said one of the main reasons for going to college should be for mental stimulation.
The UAB is considered a great place to study by those looking for a high quality education, and are prepared to face the challenges of hard work for intellectual gain. It is thought that one of the best ways of settling into study at the UAB is to get involved in as many extracurricular activities in your first semester as possible, as this will enable you to make friends easily and to settle into college life. The campus is considered safe with GPS safety poles present on the campus, simply pressing the buttons will alert campus police to your exact location for assistance.
Many people point out how much they enjoy going to the sports events at the university. The UAB is a member of the NCAA division 1, and its athletic teams, known as the Blazers, compete strongly at national level.
Although college is an expensive affair, the majority of students feel that they made the right choice attending the UAB, and point out that many grants and scholarships are available. However, many feel that the food program on campus is not a good deal, and although the food id good it suffers from long lines and lack of choice.
University of Alabama Ranking and Quick Facts
University of Alabama ranking
University world Ranking – Times 400 (UK)

= 282

University world Ranking – Jiaotong 500 (China)

151 to 202

American Rank (Jiaotong)

77 to 98

UAB Facts

Students (Undergraduates / PG/ Total)

10,796

5,450

16,246

Faculty / Staff

2,049

Established

1969

Endowment (2006) – USA Rank
$848,848,000 – 75th
Endowment per student

$52,246

Research Spending – USA Rank
$318,536,000 – 47th
Affiliations

SACS, NCAA
Other US Colleges by State
References