The Rensselaer Polytechnic Institute Ranking is 56th best college USA and 173rd in the world on the University Review College Ranking List. It is ranked as the 42nd best college in the states by the USnews, and the 131st best by Forbes.
Requirements for Admission and Tuition Fees (Quick Facts 2014 / 2015)
As a private institution the Rensselaer Polytechnic Institute tuition fees are $47,908 for both in and out of state students. It is a selective college accepting 41.2% of applicants. Financial aid offered totals $119 million per year, at an average of $32,600 per student.
Rensselaer Polytechnic Institute SAT Scores and ACT Scores
SAT scores for Rensselaer Polytechnic Institute admission requirements (25th-75th percentile) are Math 670 – 760, Reading 610 – 710, and writing 590 – 700. The total composite SAT range for accepted applicants is 1290 to 1490.
The requirements for ACT (25th-75th percentile) are Composite 27 – 31.
Rensselaer Polytechnic Institute Information
Situated in Troy (New York State; Go here for information on the Troy University, Alabama rankings), the Rensselaer Polytechnic Institute (RPI) is a private research institute that has a full time student body of around 6300; this is enhanced by a large part time student body of just over 900.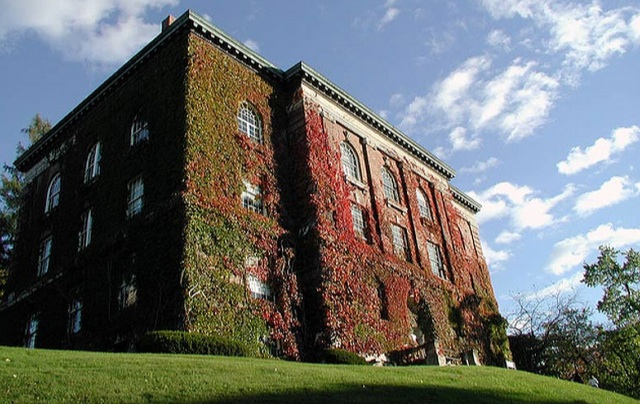 Rensselaer is very much focused towards science and technological studies, and is today presided over by it's President Shirley Jackson.
Although its strength is in science and technologies, the Rensselaer Polytechnic Institute, troy, NY also covers other topics across its five schools:
School of Architecture
School of Engineering
School of Humanities and Social Sciences
School of Management and Technology
School of Science
Being a well thought of enables Rensselaer Polytechnic Institute to attract some very well known faculty including the Nobel prize for physics winner Ivar Giaever; others include David Musser, James Hendler and Leik Myrabo. Notable alumni include Washington Roebling, George Ferris, Theodore Judah, Keith Millis, and James Fallon.
Rensselaer Polytechnic Institute Address
The RPI is located at the following address:
110 Eighth Street,
Troy
NY 12180
USA
Other colleges in New York state include Columbia, Cornell, New York University, CUNY City College, SUNY Stony Brook, Syracuse University, Downstate Medical Center, SUNY Albany, MSSM, Rockefeller University, University of Rochester, Yeshiva, and the University at Buffalo.
Ranking and Quick Facts
Motto: Knowledge and Thoroughness
Rensselaer Polytechnic Institute ranking

University world Ranking – Times 200 (UK)

= 191

University world Ranking – Jiaotong 500 (China)

203 to 304

American Rank (Jiaotong)

99 to 138

RPI Basic Facts

Students (Undergraduates / PG/ Total)

5845

1363

7204

Faculty / Staff

481

Established

1824

Endowment (2006) – USA Rank
$682,894,000 – 90th
Endowment per student

$94,794

Affiliations

National Association of Independent Colleges and Universities, New Ivies, ECAC
Other US colleges by State
References
Rensselaer Polytechnic Institute; List of New York Colleges.