The Penn State University ranking is 31st in the USA and 42nd in the world on the University Review College Ranking List. It is ranked as the 48th best college in the states by the USnews, and the 166th best by Forbes. The THE rates it as the 58th best in the world.
Requirements for Admission and Tuition Fees (Quick Facts 2014 / 2015)
The Penn State University tuition fees are $17,502 for in-state and $30,452 for out of state students. It is a selective college accepting 55.5% of applicants. Financial aid offered totals $148 million per year, an average of $10,730 per student.
Penn State University SAT Scores and ACT Scores
SAT scores for Penn State University admission requirements (25th-75th percentile) are Math 560 – 670, Reading 530 – 630, and writing 530 – 640. The total composite SAT Score range for accepted applicants is 1090 to 1300.
The requirements for ACT (25th-75th percentile) are Composite 25 – 29, English 25 – 30, Math 25 – 30, and Writing 8 – 9.
About Pennsylvania State University
The Pennsylvania State University is located at University Park in the East of the USA; it was founded in 1855 as a private institution having been proposed as a land grant university. It is situated in a campus of around 5450 acres in university park, PA.
There are around 34,000 undergraduate students and approximately 6,000 postgraduate scholars. Penn state university has an endowment of 3 billion US dollars. The president is Graham Spanier. The schools mascot is the Nittany lion, the sports team play in dark blue and white. It is a member of the Public Ivies group, and the worldwide universities network.
The Libraries at Penn State, University Park, PA contain close to five million books and over half a million maps. This makes them the 14th largest out of the American colleges research libraries.
As a Public Ivy institution, the education offered is similar to found at places like University of Texas at Austin, University of Maryland College Park, UCD, and the University of Virginia.
Penn State University Address
Pennsylvania State University
201 Agricultural Administration Building,
University Park,
PA 16802
USA
417 Old Main, University Park, PA 16802
Other colleges in the state include the University of Pittsburgh, Temple University, Carnegie Mellon University, Lehigh, University of Pennsylvania, Drexel University, and the Thomas Jefferson University.
Penn State University Logo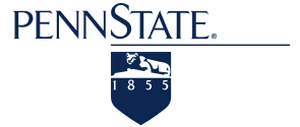 Pennsylvania State University Ranking and Quick Facts
Penn State University Ranking
Ranking – Times 400 (UK)

90

University world Ranking – Jiao tong 500 (China)

43

University world Ranking – Newsweek 100 (USA)

40

PBA Top 100 Colleges

31

USnews American ranking

47

American Rank (Jiaotong)

28

Pennsylvania State University Facts

Students (Undergraduates / PG/ Total)

79,165

12,247

92,613

Penn State University Location
University Park, Pennsylvania, USA
Faculty / Staff

5,495

Established

1855

Endowment – USA Rank
$1,326,390,000 – 45th
Endowment per student

$14,321

Research Spending – USA Rank
$625,764,000 – 11th
Number of foreign students

3,199

Affiliations

AAU, Public Ivy, WUN, Big 10
Other US Colleges by State
References