Mayo Clinic Information
The Mayo clinic is a non profit medical institute that has its headquarters in in Rochester, Minnesota.
It was established in 1889 from the practice of the British doctor William Mayo and his sons William and Charles; Though the Mayo clinic took Williams name the clinic was also co founded with the Doctors Stinchfield, Graham, Plummer, Millet, Judd, and Balfour. The Mayo Clinic Ranking is joint 102nd on the Jiaotong 500 (China) ranking lists.
The Mayo clinic is currently led by its president Denis Cortese and employs over 30,000 staff at its headquarters.
Mayo Clinic Address
200 First Street SW
Rochester
MN 5590
United States of America
Other colleges in Minnesota state include the University of Minnesota Twin Cities.
Mayo Clinic Logo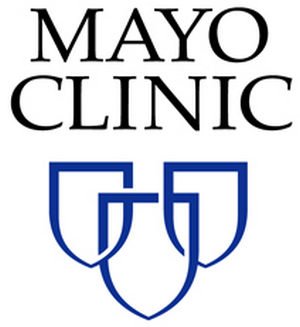 Ranking and Quick Facts
Mayo Clinic Ranking
University world Ranking – Jiaotong 500 (China)

102 to 150

America Rank (Jiaotong)

59 to 76

Mayo Clinic College of Medicine Facts

Faculty / Staff

30,000

Established

1889

Annual revenue

$6,900,000,000
Other US colleges by State
References
Mayo Clinic; List of Minnesota Colleges.