The Cornell University Ranking is 10th in the USA and 14th best in the world on the University Review College Ranking List. It is ranked as the 15th best college in the states by the USnews, and the 31st best by Forbes.
Cornell University Requirements for Admission, ACT & SAT Scores, and Tuition Fees (Quick Facts 2014 / 2015)
The total composite SAT Score range (verbal plus math; middle 50%) for accepted applicants is 1320 to 1520.
The Cornell University admission requirements for ACT (25th-75th percentile) at Composite is 30 – 34.
The Cornell University tuition fees are $47,286 for private students. It is an extremely selective college accepting 16% of applicants. Financial aid offered totals $258 million per year, an average of $41,250 per student.
About Cornell: An Overview
Cornell University is a research university mainly located in Ithaca New York state. It also has two medical campuses; these are located in New York City and in Qatar. Cornell university was established in 1865 by Andrew Dickson White and Ezra Cornell as a nonsectarian, coeducational university. Cornell has one of the broadest ranges of subjects of any university having over one hundred and fifty departments and academic areas. It is a member of the Ivy League schools.
Basic Facts
There are around 14,400 undergraduate students and nearly 7200 postgraduate  and professional qualification scholars, in addition to the 8,000 staff and 3,700 faculty. Cornell University has an endowment of 5.3 billion US dollars. The President is David J. Skorton. The school's unofficial mascot is Touchdown the Bear, and it has 36 varsity teams, these are often refereed to as 'Big Red'. Currently, the University Review as Cornell ranking as the tenth best place to study in the USA.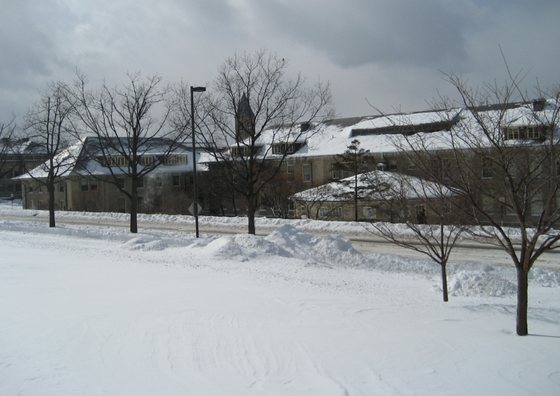 Cornell University Library
The Cornell University libraries hold over 11 million bound volumes; this makes it the 11th biggest library in the USA. The Mann library is dedicated to biological sciences.
Cornell University Address
The address of Cornell University, Ithaca, NY is located as follows:
Cornell University,
Tower Road,
Ithaca NY 14853
USA
Other colleges in New York state include Columbia, New York University, Rensselaer Polytechnic Institute, CUNY City College, SUNY Stony Brook, Syracuse University, Downstate Medical Center, SUNY Albany, MSSM, Rockefeller University, University of Rochester, Yeshiva, and the University at Buffalo.
Cornell University Logo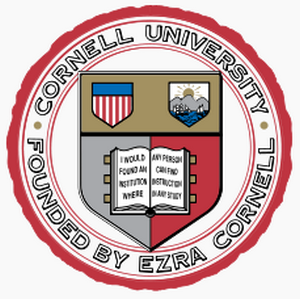 An In-depth Look at Cornell
Student body
Cornell University currently has a student population of 21,593. There are 14,393 (66.7%) studying at the undergraduate level, 5,023 (23.3%) at the graduate, and 2,177 (10%) partaking in professional qualifications. The vast majority of undergraduate students study full time (99%). There are slightly more female undergraduates (51%) than male (49%). This is not the case at graduate and professional level where there are more men (56%) than women (445). Thirty-eight percent of undergraduates come from a minority background.
Twenty percent of all students are international (from 122 different countries), with a break up of 10% at undergraduate level, 45% at graduate level, and 25% for those partaking in professional qualifications. The majority of students come from New York State (27%), followed by those from the middle states (15%), and New England (7%).
Cornell Tuition fees
The university has both endowed and land-grant colleges. The Cornell University tuition and student activities fees for people attending the endowed colleges (Architecture, Art and Planning; Arts and Sciences; Engineering; and Hotel Administration) are the $47,286, on top of this you can add $8,112 for housing, $5,566 for dining, $870 for books (~$1400 for those attending the college of Architecture, Art and Planning), and $1,770 for personal and miscellaneous expenses, bringing the expected annual costs to study at the endowed colleges to $63,604.
For people attending the Land-Grant colleges (Agriculture and Life Sciences; Human Ecology; and Industrial and Labor Relations) the price for people from out of state is the same as above. However, for New York State residents the tuition and student activities fee is reduced to $31,146, reducing the estimated overall expenses to $47,464 per annum.
Cornell is considered to be one of the top ten colleges in the U.S.A. for value for money, with an exceptional level of education offered it is no surprise that it was ranked as the number nine best value schools by the U.S. News and World report.
Over 55% of students received some kind of grant or scholarship last year at an average amount of $33,434. The biggest source was institution grant aid (52% of people, average $33,000) and student (30%, $6,315) and federal loans (29%, $4200). Examples of financial aid packages offered by Cornell can be found here.
Academic programs
The university contains fourteen different colleges and schools: eleven in Ithaca (7 undergraduate, 4 graduate/professional); two in New York city (Medical), plus the Cornell Tech campus; and one in Doha, Qatar.
There are approximately 4,000 different courses on offer from the 100 academic departments. This allows for 80 undergraduate majors and 90 minors. At the graduate level there are 108 fields of study.
Campus details, students in campus
The main campus is set in a stunning location on a hill, and covers 4,800 acres in Ithaca, NY. It is a beautiful campus, largely due to its traditional buildings set in quads and openness. It has plenty of nature available and a stunning gorge.
The sports team (Big Red) competes in 30 (14 men's, 16 women's) competitions at NCAA division I-AA level, and within the Ivy League. It is especially known for its ice hockey, wrestling, rowing, and lacrosse teams.
Number of faculty
There are 8,103 members of staff, of which 1,628 are faculty on the Cornell campus. When the faculty at the Weill Cornell (the medical center for the university), and Doha in Qatar are taken into account then there are 3,681 faculty members, 53% of whom are full-time.
Graduation rates, time to graduate
As can be expected from a motivate and accomplished body of scholars the number who graduate within the traditional four years is very high at 87%, by the sixth year 93% of students have graduated.
Last year Cornell awarded 6,636 degrees: 3,577 Bachelor's (53.9%), 2,289 Master's (34.5%), and 770 Doctoral (11.6%) degrees; further broken down into 490 at PhD, JSD, and DMA, 191 at J.D., and 89 at D.V.M.
Student Admission
As an Ivy League university it is no surprise that Cornell is attractive to students and staff alike (did you know that there are 43 Nobel Prize winners associated with the establishment. Therefore, despite being a relatively large university, with over 14,000 undergraduate students competition for places is tough, and the acceptance level is around 18%. Of the 36,387 who applied in the last round, 6,538 were admitted, of whom 3,307 (9.1%) enrolled.
The application fee for undergraduates is $75, and it is slightly higher for graduate study at $95. Admissions tests, recommendations and TOEFL (for foreign students) are all requirements.
Cornell University SAT Scores and ACT Scores
Eighty-eight percent of applications submit SAT scores, with the middle 50% ranging from 670 – 770 for Mathematics, and 630 – 730 for Reading.
Thirty-six percent submit ACTs, with the middle 50% composite ranging from 29 – 33.
The university's admission website can be reached here. The admissions office address is located at 300 Day Hall Ithaca, NY 14853, and their telephone number is (607) 255-2000.
It has been mentioned by many students that in addition to getting good school grades that being involved in community programs, both at high school and portraying a future interest in them at Cornell/Ithaca goes a long way towards admittance. Another tip is to follow the primary / alternate application process that allows potential students to apply to two different schools at the university, as this demonstrates how keen you are to study at Cornell.
Student Experience
Nearly all students feel that Cornell is an exceptional place to study at, and the sheer amount of courses available is frequently mentioned. Students know that they have to work incredibly hard to complete a degree at an Ivy League School, and in general find the presence of so many professors who are world leaders in their field to be incredibly motivating. Although the work is demanding the quality of teaching is up there with the best in the world. Due to the workload, students recommend that it is best suited for people who are very self-motivated and are able to juggle their time well.
Many students feel that despite the high tuition fees that Cornell offers incredibly value for money, and would rather pay the extra money for the level of education offered and the contacts made while studying on the campus. They also point out that numerous grants are available, especially from the university itself, to offset the high expenses of studying at an Ivy League College. They feel proud to study at Cornell and know that because the degree is earned by hard work it is considered prestigious, which will be more than useful in the job market.
Many people mention the capricious weather, and the cold New York State winters can be a shock to people coming from warmer climes. The fall and spring months in the Ithaca area and around Cayuga Lake are glorious.
Food on the campus is considered to be good, and the city of Ithaca is a very pleasant town with plenty of eateries. The campus is considered safe with a blue light system in place and its own police force.
With over 800 clubs available, most students said they had no difficulties settling into university life and making new friends.
Nearly, everyone seems to have a good opinion of Cornell, with some of the key points repeated being the beauty of the campus and surrounding areas, the quality of education, and the joy of hanging around with intellectual people.
Cornell University Rankings and Quick Facts
Cornell Motto – "I would found an institution where any person can find instruction in any study"
Cornell University Rankings
Ranking – Times 400 (UK)

20

University world Ranking – Jiao tong 500 (China)

12

University world Ranking – Newsweek 100 (USA)

19

PBA Top 100 Colleges

10

USnews American ranking

14

American Rank (Jiaotong)

10

Cornell University Ithaca Facts

Students (Undergraduates / PG / Total)

14,393

7,200

21,593

Cornell University Location
Ithaca, New York State
Faculty (Ithaca Campus)

1,628

Established

1865

Endowment – USA Rank
$5,272,228  – 18th
Endowment per student

$216,060

Research Spending – USA Rank
$606,804,000 – 13th
Number of foreign students

3,697

Affiliations

AAU, Ivy League
Other US colleges by State
References