The Boston College Ranking is 76th in the USA and 290th in the world on the University Review College Ranking List. It is ranked as the 31st best college in the states by the USnews, and the 36th best by Forbes.
Requirements for Admission and Tuition Fees (Quick Facts 2014 / 2015)
As a private institution the Name tuition fees are $47,463 for both in and out of state students. It is a very selective college accepting 32.2% of applicants. Financial aid offered totals $115 million per year, at an average of $36,780 per student.
Boston College SAT Scores and ACT Scores
SAT scores for the Boston College admission requirements (25th-75th percentile) are Math 640 – 730, Reading 620 – 710, and writing 630 – 730. The total composite SAT range for accepted applicants is 1270 to 1450.
The requirements for ACT (25th-75th percentile) are Composite 29 – 32, English 29 – 34, Math 28 – 33, and Writing 8 – 10.
Boston College Information
Boston College, or BC, is a private coeducational research university run by Jesuit priests. It was established in 1863 mainly as a preparatory school and liberal arts college.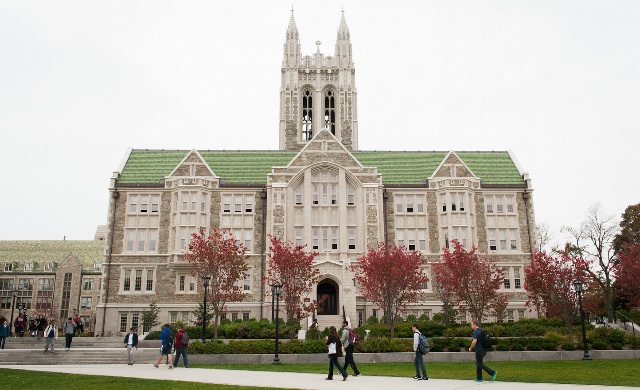 It garnered the 16th place in the 2009 edition of Forbes.com's "America's Best Colleges", but was most recently ranked 36th overall by them (2014). The college's sociology program is considered as one of best programs in Boston, second only to Harvard.
Classes officially started at the college on the 5th of September, 1864 with three professors teaching 22 students. For seventy years, the curriculum in the university focused on liberal arts and taught modern languages and English, Latin and Greek classics, Religion, and Philosophy.
The original college campus was located at Harrison Avenue, alongside Boston College High School. After 50 years, with the school's growth, it moved to Chestnut Hill, where the groundbreaking ceremonies for the building of Gasson Hall (then known as the Recitation Building) commenced on the 19th of June 1909. Further endowments doubled the main campus' size in 1940. With the acquisition of the Newton College of the Sacred Heart in 1974, the college's number of buildings increased to 15, spanning a total area of 40 acres.
Though technically a university, the college did not fit the requirements of the University Charter until the 1920's when it opened its Summer Session programs, Evening College, Law School and Graduate School of Arts, which offered its first doctoral programs in 1952.
Boston College, Chestnut Hill, MA has nine colleges and schools: the College of Arts & Sciences,,Graduate School of Arts & Sciences, Lynch School of Education, Carroll School of Management, Connell School of Nursing, Graduate School of Social Work, Law School, School of Theology and Ministry and the Woods College of Advancing Studies.
Boston College athletics teams are commonly known as "the eagles" and the college's teams participate in hockey, basketball and football tournaments. The Boston College Eagles football team in particular have an outstanding record in college football. Also. two of the college's alumni, namely Mike Woicik and Bill Romanowski, both hold NFL records.
Boston College Address
The address of Boston college is located at 140 Commonwealth Ave, Chestnut Hill, Massachusetts, United States.
Other colleges in Massachusetts state include Harvard, Northeastern University, University of Massachusetts Medical School, Brandeis, University of Massachusetts Amherst, Tufts University, Massachusetts Institute of Technology, and Boston University.
Boston College Rankings and Quick Facts
This article is for Boston College, go here for information on Boston University Ranking
Boston College ranking
Ranking – Times 200 (UK)

N/A

University world Ranking – Jiaotong 500 (China)

403 to 510

University world Ranking – Newsweek 100 (USA)

N/A

American Rank (Jiaotong)

165 to 197

Boston College Facts

Students (Undergraduates / PG/ Total)

9,060

4,840

13,900

Faculty / Staff

680

Established

1863

Affiliations

568 Group, AJCU
Other US colleges by State
References