The Auburn University ranking is in the 398 to 413 range in the world on the University Review College Ranking List. It is ranked as the joint 103rd best college in the states by the USnews, and the 204th best by Forbes.
Auburn University Requirements for Admission, ACT & SATS Scores, and Tuition Fees (Quick Facts 2014 / 2015)
The ACT and SAT score requirements for admission to Auburn vary based on the number of applicants. the average ACT composite range of accepted applicants is 24 to 30, 1090 to 1350 for SATS, and the GPA 3.74.
The total composite SAT Score range (middle 50%) for last years accepted applicants was 1060 to 1270.
The previous Auburn University admission requirements with ACT (25th-75th percentile) at Composite was 24 – 30.
The Auburn University tuition fees are $10,200 for in-state and $27,384 for out of state students. It is a fairly selective college accepting 82.7% of applicants.
About Auburn University
Auburn university was established in 1854 and is one of the largest universities in the state of Alabama. The university is popularly referred to as Auburn or by the initials AU.
Located on a suburban campus of almost 2,000 acres the establishment is currently overseen by president Jay Gogue.
Auburn also has a sister establishment located at Montgomery this caters for around 6,000 additional students; bringing the total student body of Auburn university up to about 30,000.
There are thirteen major colleges and schools of learning at Auburn. These are as follows:
College of Agriculture
College of Architecture, Design and Construction
College of Business
College of Education
College of Engineering
College of Human Sciences
College of Liberal Arts
College of Sciences and Mathematics
College of Veterinary Medicine
School of Forestry and Wildlife Sciences
School of Nursing
School of Pharmacy
Graduate School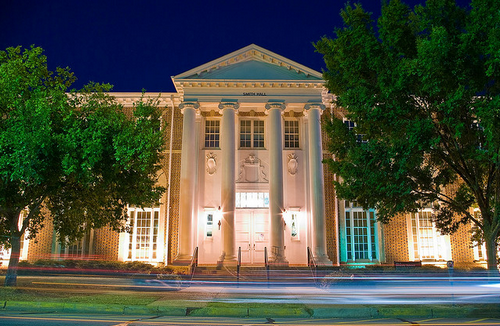 Over the years the AU has seen many distinguished people pass through its gates either as faculty or students. Some noteworthy Auburn University alumni include sports stars such as American Footballs John Heisman, Bo Jackson and Pat Sullivan; Basketballs Charles Barkley, Eddie Johnson, Jamison Brewer, and Chuck Person; and Baseball players Josh Hancock, Terry Leach, and Scott Sullivan. Non-sport alumni include cartoonist Bill Holbrook and author Paul Hemphill.
An Overview of the Auburn University Facts (2014/2015 update)
Auburn University is a public, coeducational establishment that is located in a suburban locale in the city of Auburn, AL. Presently, there are a total of 24,864 at Auburn University. Of these 19,799 (79.6%) study at the UG level, while 5,065 (20.4%) take PG courses. At the undergraduate level, 18,01 take classes full time whereas 1,788 are there part time.
Location wise, 63% come from in-state while 37% are from different parts of the US. There are approximately 5% from abroad. There are 9,038 UGs women attending Auburn, and there are 8,973 men studying there at the UG level, making the ratio approximately 51:49.
With regards to ethnic background, the undergrad student population can be broken down to 85% White, 2% of Asian descent, 7% African-American, and 3% Hispanic or Latino.
The university is presently ranked as the 398th to 413th best in the world by the UR college and university rankings, and is considered the 91st finest nationally by the U.S. News College Report.
Tuition Costs
The tuition fees payable for attending this university are $9,852 for those coming from instate, and $26,364 for people from out of state. It is necessary to add a further $11,552 for room and board expenses, and $1,200 for books and other study materials; this brings the total annual cost of study at this school to $22,604 for in-state UGs and $39,116 for those from out of state.
Auburn provides needs based funding for scholarships of $36,482,692, and has non-needs based funding of $45,631,082 available, a total of $82,113,774 accessible as scholarships to their students. The average financial aid received by every student is $9,971, and around 79% of all students receive help with their financial needs.
Student Admissions
Auburn University is a moderately selective institution with an acceptance rate of 79%. Last year 18,323 applied for admission, of who 12,827 received acceptance. Of those accepted 4,202 (33%) enrolled to the college.
The fees for applying to the academic institution are $50 for both undergraduate and for post-graduate applicants.
With regards to the people accepted for admittance, 29% were within the best ten percent in their high school. Twenty percent of successful candidates presented SATS scores. The mid scores for reading were 500-599
(52%), 500-599 (41%) for Math, and 500-599 (46%) for writing. The middle 50% percentiles were 500 – 600 for reading, 490 – 590 for writing, and 520 – 620 for Math.
Eighty percent of students submitted ACT scores: median ranges are 24 – 29 (53%) Composite, 24 – 29 (42%) for English, and 24 – 29 (55%) for Mathematics. The twenty-five to seventy-five percent percentiles were 24 – 30 for Composite, 24 – 32 for Math, 23 – 28 English, and 7 – 8 at Writing.
Some very important admission factors for acceptance into the school include the essay, and standardized test scores. In addition, aspects including character, talent/ability, geographical residence, secondary school record, volunteer work, extracurricular activities, state residency, and alumnae relationship are important for entry.
The address to apply for study at the Auburn University is Office of Admissions and Recruitment, The Quad Center, Auburn, AL 36849, USA. The phone number is (334) 844-6425, and their admissions site can be found here.
Academic Study Programs
The college's most popular degrees are being Biomedical Sciences, Finance, and Psychology. Sizes of classes are: fewer than 20 (30%), 20 – 49 (55%), and 50 and more (15%).
Campus Facts
The university's main campus can be found at College town in Auburn, Alabama. In all, the campuses contain an area of about 1,843 acres.
The university's sports teams partake at the NCAA DIVISION I-A level in the Southeastern Conference. The sports teams are named the Tigers. Men take part in 7 varsity sports, and women partake in 10 events, making a total of 17 varsity events all together.
Faculty Details
The university currently employs approximately 1,358 full-time faculty, and 1,177 part-time (total faculty = 2,535). The student:teacher ratio is 18:1.
Graduation Rates, Time to Graduate College
Around 34% of freshmen graduate the school within 4 years, and 67% graduate within 6 years. Last year, 5,577 students graduated the college; of these 4,184 received Bachelor's degrees, while 963 got Master's or above.
Student Experience
The student experience is considered very good at Auburn, indeed over 90% of students return to study following their freshman year. One of the main reasons for this is the knowledgeable professors and courses that are designed not to be too stressful. Although not up to the likes of places like Penn, Princeton, or Stanford, the quality of education offered at Auburn is considered to be very good.
Red brick buildings are nice, historic, and have impressive southern style architecture. And the grounds that they occupy are beautiful. Although the campus is large it is not considered to be overwhelming. Many comment on the overall tidiness of the camps grounds and the lushness of the lawns.
The accommodation available on campus is a bit of a mix and match, and it's largely
down to luck whether you get into one of the nice large dorms or a run down one long in need of refurbishment. Overall most students are happy with the dorm facilities but feel that they could be better. Many mention that though living in the quad allows for a great location wise that parking facilities are poor. Conversely, although the Village offers better campus housing it is a bit of a drag to get to some parts of campus. Fortunately a lot of work has gone into refurbishing and creating new dorms in the last few years, so the likelihood of having a nice place to stay on campus is improving all of the time.
Many commented that class sizes are fairly large. Most feel that the university offers good value for money, especially if coming from instate. Alumni often comment how much they enjoyed their time at Auburn, with most saying that their time there was the best in their life, and memories of the friends that they made and people they met will stay with them forever. The students are very proud of their successful sports teams.
Although Auburn is a small college town, many students note that it is easier to get to bigger cities such as Birmingham, Atlanta, and Athens. The downtown area of Auburn has numerous dining and shopping options, and is easy to get around in without the need of a car. Townsfolk are considered to be welcoming of students, which are an important part of the community (about 21,000 students live in the town of Auburn itself).
Auburn University Address
Auburn University
182 South College Street
Auburn,
Alabama 36849-0001
U.S.A
Other colleges in Alabama state include the University of Alabama at Tuscaloosa, University of South Alabama, Troy University, and  University of Alabama at Birmingham.
Auburn University Logo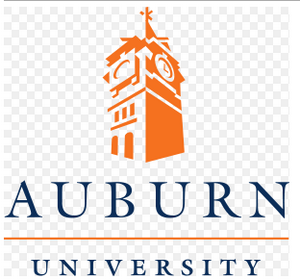 Auburn University Rankings and Quick Facts
Motto: For The Advancement of Science and Arts
Type: Public
Established: 1856
President: Jay Gogue
Annual Cost to Attend: (instate) $ $22,604; Out of State $ $39,116
College Ranking: 398 to 413th best in the world, University Review / 91st Nationally, USNews
Website: http://www.auburn.edu
Auburn University ranking

University world Ranking – Times 200 (UK)

N/A

University world Ranking – Jiaotong 500 (China)

305 to 402

University world Ranking – Newsweek 100 (USA)

N/A

America Rank (Jiaotong)

139 to 164

Auburn University Facts

Students (Undergraduates / PG/ Total)

19,799

5,065

24,864

Auburn University Location

Alabama, USA

Faculty / Staff
Established

1856

Research Spending

$132,203,000

Endowment (USA Rank)

$522,145,000 – 154th

Endowment per student

$21,000

Affiliations

S.E.C.
Other US Colleges by State
References
Auburn University; Alabama Colleges List; Photograph by Robert S. Donovan.